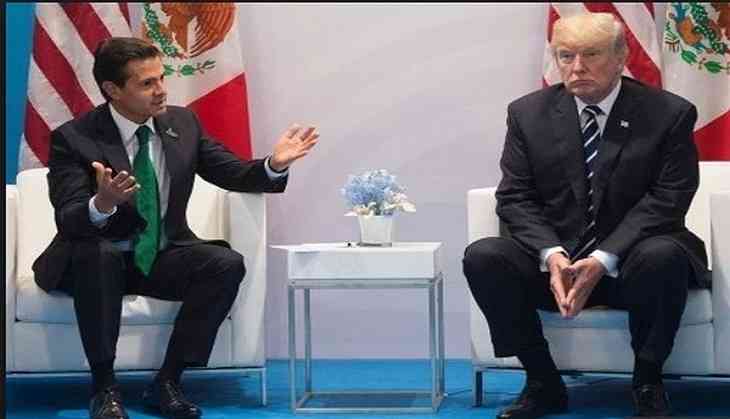 U.S. President Donald Trump on Friday once again lashed out at his Mexican counterpart Enrique Peña Nieto, stating that Mexico would pay for a border wall.
In a meeting held between the two Presidents on the sidelines of the G20 meeting in Hamburg, Trump, who was questioned on whether Mexico was meant to pay for the wall, replied saying 'Absolutely', in the presence of Peña Nieto sitting silently next to him, reports the Guardian.
The meeting, which was the first between the two leaders since Trump assumed charge of Presidency, was seen as a depiction of insensitivity, while Peña Nieto's silence drew flak from Mexicans.
Carlos Bravo Regidor, a professor at the Centre for Teaching and Research in Economics in Mexico City, while calling Peña Nieto a 'coward' said the latter should have defended the deal struck of not talking about the wall in public, adding that he should have faced him boldly.
"Trump is a bully, but Peña Nieto is a coward," he said.
Jorge Ramos, the Univision anchor whom Trump expelled from a press conference during the campaign, took to twitter to express his dissent and said "Trump says again that Mexico will pay for the wall. When will [Peña Nieto] dare to say to his face and in public that Mexico will not pay?"
Trump dice otra vez que México pagará por el muro. ¿Cuándo se atreverá @epn a decirle a Trump en su cara y en público que México no pagará?

— JORGE RAMOS (@jorgeramosnews) July 7, 2017
Similarly, Leon Krauze, a prominent Mexican journalist drew upon French President Emanuel Macron and said it was necessary to stand up in public against President Trump, like the latter did.
Macron entendió lo q EPN no: frente a diplomacia de patio escolar de Trump hay q actuar con firmeza en público. Lo que cuenta es lo visible

— León Krauze (@LeonKrauze) July 7, 2017
The two presidents were scheduled to meet on January 31 in Washington, but Peña Nieto cancelled the visit after Trump expressed that his Mexican counterpart 'shouldn't bother coming if the wall wasn't on the agenda.'
The Mexican government had announced earlier that the two presidents have agreed not to talk about the wall in public, a deal that Trump has honoured in the breach.
Putting up a wall along the US-Mexico border was part of Trump's campaign agendas, following which he issued an executive order in January for the beginning of construction.
Earlier, Trump had assured that the cost of building the 'wall' on the southern border with Mexico will come down when he gets involved with its design and negotiations.
He had also expressed his confidence that Mexico will 'eventually' pay for the border wall.
Trump had said in January that he will seek to pay for the wall by imposing a 20 percent tax on imports from Mexico and as part of a larger comprehensive tax reform plan.
However, Mexico has adamantly rejected the notion that they would fund the border wall.
Meanwhile, Trump at his first meeting with Russian President Vladimir Putin during the G-20 Summit in Hamburg were seen sharing 'fine chemistry', so much so that U.S' First lady Melania Trump was sent in to end the meeting after it ran overtime.
The meeting between the duo went on for an additional hour, and lasted for a total of two hours, reports NBC.
-ANI