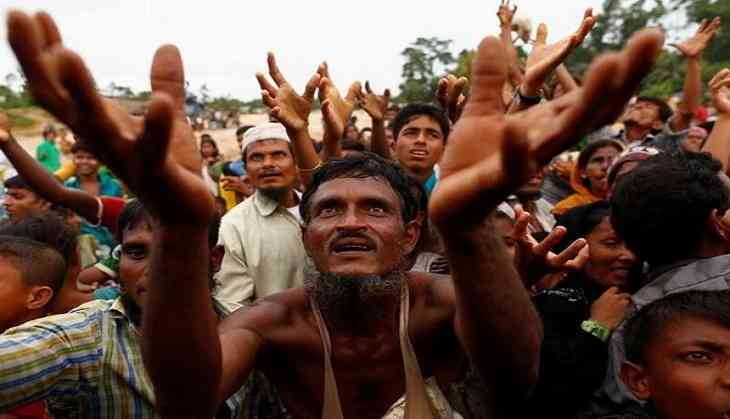 Myanmar has rebuffed a ceasefire declared by Muslim Rohingya militants, declaring simply that it did not negotiate with terrorists.
The Arakan Rohingya Salvation Army (ARSA) took to Twitter to announce the truce in a statement, in which it urged "all humanitarian actors" to resume aid delivery to "all victims of humanitarian crisis irrespective of ethnic or religious background" during the ceasefire period, which runs until 9 October.
The ARSA also urged Myanmar to "reciprocate this humanitarian pause" in fighting.
The spokesman for Myanmar's leader Aung San Suu Kyi, however, said on Twitter: "We have no policy to negotiate with terrorists."
Myanmar says its security forces are carrying out clearance operations to defend against the ARSA, which the government has declared a terrorist organisation.
The ARSA in Myanmar's Rakhine state had declared a month-long ceasefire starting on Sunday after more than two weeks of violence and called on the Myanmar Government to respond in the same manner.
On 25 August, Rohingya insurgents killed 12 security officers in co-ordinated attacks on border posts, according to Myanmar's state media.
In response, the military intensified "clearance operations" against "terrorists," driving thousands of people from their homes.
Bangladesh High Commissioner Syed Muazzem Ali met Indian Foreign Secretary S. Jaishankar in New Delhi on Saturday and apprised him of the problems caused due to Rohingya Muslims amid a rising exodus from Myanmar's Rakhine State.
At least 294,000 ethnic Rohingyas have fled across the border to Bangladesh since fighting broke out on 25 August, according to a situation report from the Inter Sector Coordination Group (ISCG) in Bangladesh. The report said $77 million in funding was needed to deliver urgent aid to the new arrivals.
Rohingyas are not recognised by Myanmar as its citizens and are called Bengali by them and Leaders of countries with majority Muslim populations including Malaysia, Indonesia and Bangladesh have led efforts to increase pressure on the Myanmar government.
So far, an estimated 270,000 Rohingya refugees have fled from the violence affected Myanmar's Northern Rakhine state and sought refuge in Bangladesh where the limited shelter capacity is already exhausted, the U.N. refugee agency UNHCR said on Friday.
Amid a dramatic increase in the number of refugees fleeing violence in Myanmar's Northern Rakhine state, UNHCR called for urgent action to address the root causes of the recent surge in violence, so that people are no longer compelled to flee and can eventually return home in safety and dignity.
Yanghee Lee, the United Nations Special Rapporteur on Human Rights for Myanmar, said Friday that at least 1,000 people had been killed in the violence, though she said that figure is "very likely an underestimate.""Figures are difficult to verify because of lack of access to the affected areas," she said. The Myanmar government said 421 people had died.
-ANI