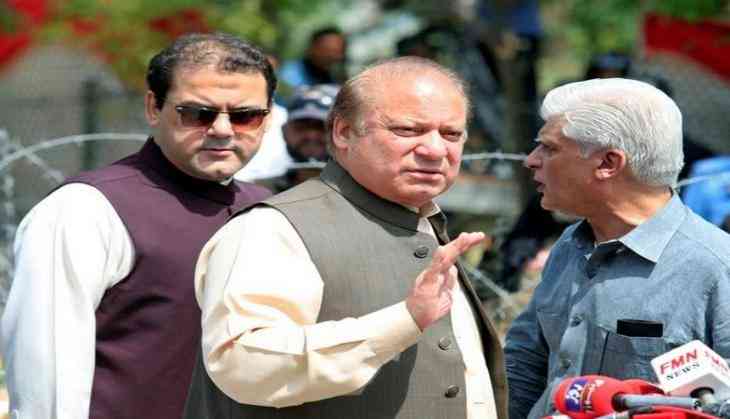 Shahbaz Sharif will continue as Punjab Chief Minister as leaders of the Pakistan Muslim League-Nawaz (PML-N) are mulling over options, who would replace former prime minister Nawaz Sharif as the party chief, in regard to a notice from election commision, following Sharif's disqualification from office.
"We did discuss all available options for a new party chief but could not arrive at a decision...we decided to hold huddles for a couple of more days keeping in view various legal and political sensitivities involved with the issue," the Dawn quoted Punjab Governor Rafiq Rajwana as saying.
The leaders, at a consultative meeting chaired by Nawaz Sharif at his chaired by Mr Sharif at his Raiwind residence, however, decided to continue with the party's "mass-contact drive," in the wake of a "positive" response from supporters, along the former Prime Minister's rally on GT Road.
The meeting was attended by National assembly Speaker Sardar Ayaz Sadiq, Punjab Governor Rafiq Rajwana, Chief Minister Shahbaz Sharif, Foreign Minister Khwaja Muhammad Asif, Interior Minister Ahsan Iqbal, Railways Minister Khwaja Saad Rafiq, Punjab Law Minister Rana Sanaullah, MNA Hamza Shahbaz, Senator Pervaiz Rashid, Anushe Rehman, former law minister Zahid Hamid and ex-IG Rana Maqbool.
The Election Commission asked the PML-N on Aug 7 to elect a new chief as election laws do not permit a person to serve as an office-bearer of a political entity, who have been disqualified from holding office.
Earlier, party chairman Raja Zafarul Haq had said that Shahbaz Sharif had been finalised as the new PML-N president and a formal announcement to the effect would be made within two days.
The former prime minister of Pakistan had earlier wished that his younger brother Punjab Chief Minister Shahbaz Sharif should succeed him as prime minister (after contesting from NA-120 to become a National Assembly member).
Former first lady Begum Kulsoom might be the next party president and that her nomination was pending clearance of her candidature for NA-120 by-polls with the Election Commission. She is to appear before the returning officer on 16 August (today) as her rival candidates have raised objections to her nomination papers.
-ANI