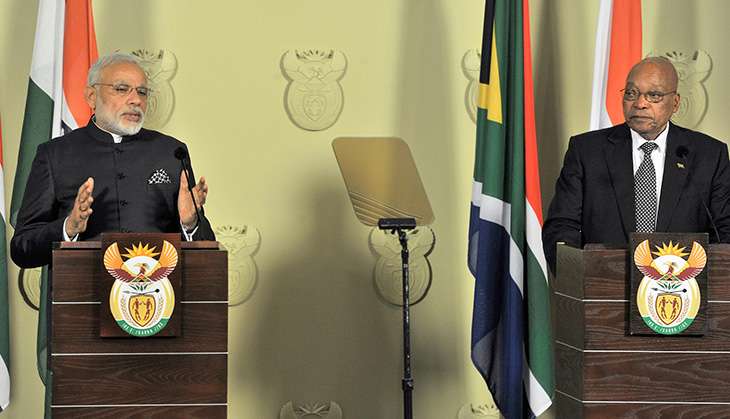 Reiterating the rich historical bond shared between India and South Africa, Prime Minister Narendra Modi on Friday said there is a strong need for both countries to work closely on international issues and emerging global challenges. He also thanked Pretoria for supporting India's bid to secure membership in the 48-member Nuclear Suppliers Group (NSG).
PM: I thanked @SAPresident for SAfrica's support to India's NSG membership; we know we can count on active support of friends like SAfrica

— Vikas Swarup (@MEAIndia) July 8, 2016
Making a press statement along with South African President Jacob Zuma, Prime Minister Modi said India and South Africa have nurtured strong ties and stood together in the common fight against racial subjugation and colonialism.
"It was in South Africa that Mahatma Gandhi found his true calling. He belongs as much to India as to South Africa. This visit is an opportunity to pay homage to two of the greatest people who walked this Earth, Mahatma Gandhi & Nelson Mandela," Prime Minister Modi said.
"President Zuma and I also agreed on the need to work more closely on international issues and emerging global challenges. I thanked the President for South Africa's support to India's membership of the Nuclear Suppliers Group. We know that we can count on the active support of our friends, like South Africa," he said.
The major roadblock for India's membership of the Nuclear Suppliers Group (NSG) comes from China, which maintains that being a nuclear Non-Proliferation Treaty (NPT) signatory is a must for joining the NSG.
Asserting that Indian companies held strong business interests in South Africa, Prime Minister Modi said the trade between two nations had grown by over 300% percent in last ten years.
He said there was immense scope for trade between both countries to grow, laying emphasis on - minerals and mining, chemicals and pharmaceuticals, high-technology manufacturing and information and communication technology - sectors.
He also called for jointly developing or manufacturing defence equipment to bolster defence trade.
"Our companies can also pool their capacities to jointly develop or manufacture defence equipments and platforms. And, not just to meet our defence needs, but also to respond to regional and global demand," he said.
The Prime Minister also spoke on issues related to climate change in his press statement and thanked President Zuma for supporting India's International Solar Alliance initiative.
"Climate change, and its impact on the world, is our shared concern. We agreed that a large scale effort and focus on renewable energy is needed to address this challenge. It was with this in mind that India had led the efforts to form an International Solar Alliance at COP 21 in Paris," he said.
"I believe that it can be the most effective platform for access to knowledge, technology and finance for promoting solar energy. I am thankful to President Zuma, for South Africa's partnership in this Alliance, which already has the support of over 120 countries," he added.
Prime Minister Modi further said terrorism is a shared threat that puts at risk the safety and security of people of both the countries, adding, "It attacks the very foundations of our society. The President and I agreed that our two nations need to stay vigilant and cooperate actively to combat terrorism, both in our region and in the world."
PM: Terrorism is a shared threat; @SAPresident & I agreed that we must be vigilant & cooperate to combat terrorism, regionally & globally

— Vikas Swarup (@MEAIndia) July 8, 2016
In conclusion, Prime Minister Modi hailed South Africa's cooperation in forums such as IBSA (India, Brazil, and South Africa) and BRICS, and invited President Zuma to BRICS Summit in Goa later this year.
Prime Minister Modi arrived in Pretoria on Thursday evening on the second leg of his four-nation five-day tour to the African Continent with an aim to enhance mutual cooperation and understanding on major issues of common interest.
South African Minister of International Relations and Cooperation Nkoana-Mashabane and Minister for Small Business Lindiwe Zulu had welcomed the Prime Minister at the Waterkloof Air Force Base.
-ANI