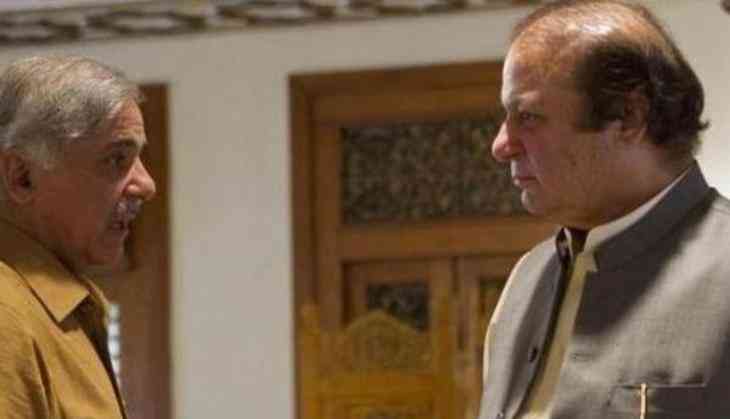 Panamagate probe: JIT summons Nawaz Sharif's brother to appear on June 17 (ANI)
The Panamagate joint investigation team (JIT) has summoned Prime Minister Nawaz Sharif's brother and Punjab Chief Minister Shehbaz Sharif to appear before it.
According to the Express Tribune that Shehbaz has received a summons from the JIT to appear before it at 11a.m. on June 17 to record his statement.
The JIT has already summoned the Prime Minister, who will appear before it on tomorrow at Islamabad's Judicial Academy - which has temporarily been turned into the JIT's secretariat.
His son's Hassan and Hussain Nawaz have already been summoned and questioned several times in recent days.
The Punjab Chief Minister was director of Hudabiya Paper Mills (HPM) in 1999. He was the one who had made the settlement with the London-based Al-Towfeek Company the same year.
According to the National Accountability Bureau (NAB) documents, Shehbaz and his son Hamza were accused in the 17-year-old HPM scam.
Seventeen years ago, the NAB had claimed that the Sharif family had received over Rs.1 billion 'through illegal and fraudulent means' and that they were liable to be tried under anti-corruption laws.
In 2014, the Lahore High Court quashed the HPM reference against the Sharif family. However, the apex court in its April 20 verdict in the Panamagate case allowed the JIT to probe all such material against the family.
Meanwhile, the JIT has alleged that the government machinery is being misused to hamper and hinder its investigation and five government departments are trying to influence its functioning.
The five departments the probe panel has complained against include the Ministry of Law, the NAB, the Federal Board of Revenue (FBR), the Securities and Exchange Commission of Pakistan (SECP) and the Intelligence Bureau (IB).
The JIT's head Wajid Zia has submitted in the apex court an application, in which the JIT has highlighted the difficulties the six-member panel is facing in carrying out its interrogation.
-ANI