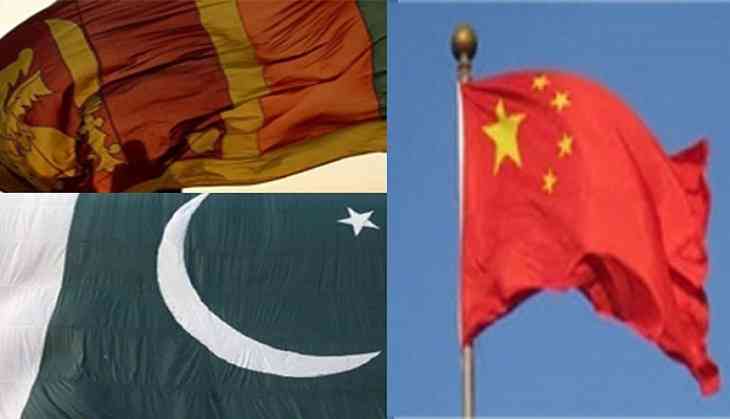 People these days wonder if Pakistan has started going the way of Sri Lanka with its growing engagement with China and in regard to taking loans and working in close cooperation with the latter.
According to a report by the Dawn's Khurram Husain, the payment-related outflows on China-Pakistan Economic Corridor (CPEC) projects have now commenced since most of them have begun commercial operations.
The last International Monetary Fund (IMF) report saw Pakistan's external financing requirements going up to 45 billion dollars by end of 2018.
And with the projects getting operational, the figures will eventually rise further.
Pakistan is involved with China in various projects, including, an ambitious project worth 62 billion dollars China-Pakistan Economic Corridor (CPEC), which is expected to be completed by August 2019.
A nuanced article by The New York Times about Sri Lanka's handover of the Hambantota Port to China in December 2017 underscores how China turned an ally's struggles to its strategic advantage.
The Sri Lanka based Hambantota Port project's acquisition by China has given it control over the territory, showcasing how Beijing uses debt trap, by providing ambitious loans to gain influence around the world.
The feasibility studies had found that the Hambantota port would not work and frequent lenders like India had blatantly refused to provide loans or assistance for the port, developed during Sri Lanka's former president Mahinda Rajapaksa's rule, the report reads.
China never denied Sri Lanka loans and special assistance with their port project and so, Sri Lanka's debts ballooned rapidly under Rajapaksa.
Sri Lanka had formally handed over its southern port of Hambantota to China on a 99-year lease, in December last year.
"Under heavy pressure and after months of negotiations with the Chinese, the government handed over the port and 15,000 acres of land around it for 99 years in December last year. The transfer gave China control of territory just a few hundred miles off the shores of a rival, India, and a strategic foothold along a critical commercial and military waterway," the NYT article said.
"The case is one of the most vivid examples of China's ambitious use of loans and aid to gain influence around the world - and of its willingness to play hardball to collect," the report said.
The 1.3 billion dollar port was opened seven years ago using debt from Chinese state-controlled entities.
Since then, it has struggled under heavy losses, making it impossible for Colombo to repay its debts.
In 2016, Sri Lankan government struck a deal to sell an 80 percent stake in the port to the state-controlled China Merchants Port Holdings, which faced a lot of protests from unions and opposition groups, forcing the government to renegotiate the agreement.
In July 2017, a new plan was signed, wherein, the Chinese company will hold a 70 per cent stake in a joint venture with the state-run Sri Lanka Ports Authority.
The renegotiated plan too failed.
The Hambantota project, for China, is a linchpin of the "One Belt One Road" project. It aims at building a new Silk Road of trade routes between China and more than 60 countries in Asia, the Middle East, Africa and Europe.
The project is linked with harbours across the world that has put China in a position to challenge the US as the world's most important maritime superpower.
Other similar developments in the region include the Gwadar port in Pakistan, which is the centrepiece of the 55 billion dollars China-Pakistan Economic Corridor.
Beijing is accused of using such projects to increase its regional political power.
Interestingly, the length of the lease agreed by Sri Lanka is the same as that which gave Britain control over Hong Kong in the 19th century.
Sri Lanka, hence, is now in more debt to China than ever.
Now that Pakistan is approaching a moment that Sri Lanka passed in 2015, and Malaysia passed in May, this year, there are genuine grounds to be concerned about what exactly Pakistan has signed up for in all the CPEC projects.
India is also concerned about Beijing's plans at Hambantota that and has entered in talks with Sri Lanka to operate an airport nearby.
Pakistan, Nepal and Myanmar have all recently cancelled or sidelined major hydroelectricity projects planned by Chinese companies.
(ANI)