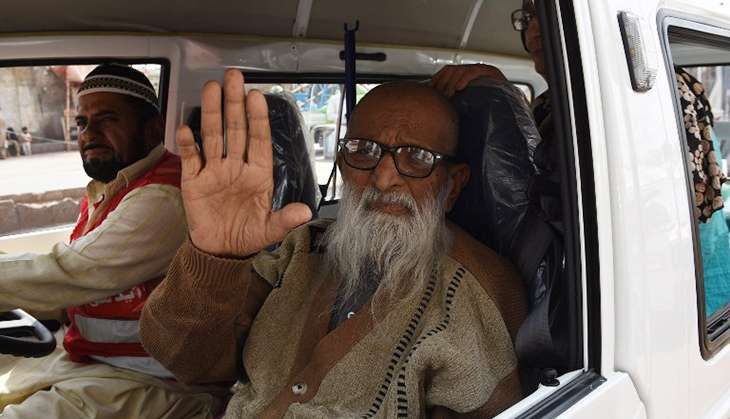 Renowned Pakistani philanthropist Abdul Sattar Edhi passed away in Karachi on 8 July at the age of 88 after a prolonged battle with different ailments.
People came out in large numbers to the National Stadium in Karachi for his funeral. He was given guard of honour and gun salute by the Pakistan Army before funeral prayers began.
Dawn quoted his son Faisal Edhi as saying, "He wished to be buried in the same clothes he used to wear. He also wanted to donate his body parts, but only his cornea can be donated as rest of the organs were not in healthy condition."
Pakistani media described Edhi as the national hero who formed the famous Edhi village 25 years ago which was home to the homeless, destitute, street children, elderly, abandoned babies and addicts was Chairman of the Edhi foundation which was known for its humanitarian work.
A number of people including Pakistani political leaders and celebrities took to Twitter to express grief over Edhi's demise. Here are some of their tweets:
Goodbye my legend ...
Goodbye my hero ...
May Allah, in His infinite mercy, bless you in the most rewarding of ways ...

— Shehbaz Sharif (@CMShehbaz) July 8, 2016
Edhi sahib ... one of the greatest man of our times who was really larger than life ... an icon & inspiration to generations ... RIP, Sir!

— Shehbaz Sharif (@CMShehbaz) July 8, 2016
State Funeral of a humble man who abjured both state and religion in favor of humanity #Pakistan #Edhi https://t.co/3C6fB5pGO7

— Husain Haqqani (@husainhaqqani) July 9, 2016
Abdul Sattar Edhi was the greatest humanist in #Pakistan. Was honored to know him & to humbly participate in his great work.

— Husain Haqqani (@husainhaqqani) July 8, 2016
May Edhi Sb's Soul Rest in Peace. A great icon & hero of Pakistan who served the poor man.My condolences to his family and to all Pakistanis

— Dr. Arif Alvi (@ArifAlvi) July 8, 2016
Paying glowing tributes to renowned social worker Sattar Edhi, Governor Sindh Dr Ishrat Ul Ebad Khan condoled the death of icon of humanity.

— Dr Ishrat Ul Ebad (@drishratulebad) July 8, 2016
If this news is correct then I am truly devastated, we lost a super human today. I will always be indebted to the great Abdul Sattar #Edhi.

— Hadiqa Kiani (@Hadiqa_Kiani) July 8, 2016
With legendary Edhi sahib passing away not only Pakistan but the world will mourn the loss of a great human being.May he rest in peace-Ameen

— Gen Asim Bajwa (@AsimBajwaISPR) July 8, 2016
The most loved Pakistani and one of our greatest heroes Edhi sb died. May Allah rest his soul in peace.

— Mohammad Zubair (@RealM_Zubair) July 8, 2016
Lucky to have met the man who I respect not only for his work for others but his courage to withstand bullies & bribes #Edhi

— Reham Khan (@RehamKhan1) July 8, 2016
Humanity Legend Mr Abdul Sattar #Edhi Sb is no more with us. It's a great loss 4country & his work can't be expressed in words #RIP Aameen

— Wasay Jalil (@WasayJalil) July 8, 2016