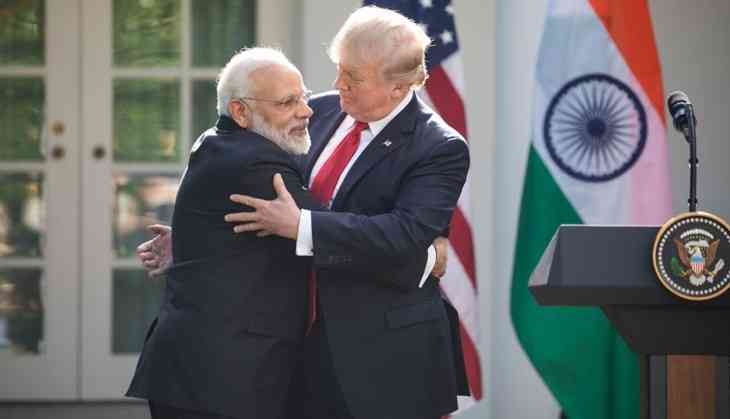 Pakistan has expressed its concerns over the recent US-India Joint Statement during Indian Prime Minister Narendra Modi's visit to the United States and said that it could aggravate an already tense situation between Islamabad and New Delhi.
"The Joint Statement is singularly unhelpful in achieving the objective of strategic stability and durable peace in the South Asian region. By failing to address key sources of tension and instability in the region, the statement aggravates an already tense situation," Pakistan's Foreign Office said in response to the Indo-US joint statement that was issued on Tuesday after President Donald Trump's meeting with Prime Minister Modi at the White House.
"The meeting in Washington D.C. between President Trump and Prime Minister Modi was a missed opportunity to induce India to alter its policies inimical to peace in the region," the statement added.
"The leaders called on Pakistan to ensure that its territory is not used to launch terrorist attacks on other countries," said the joint statement issued at the conclusion of the meeting between Prime Minister Modi and President Trump.
The statement added that they further called on Pakistan to expeditiously bring to justice the perpetrators of the 26/11 Mumbai, Pathankot, and other cross-border terrorist attacks perpetrated by Pakistan-based groups".
The Foreign Office said that Pakistan stands ready and committed to resolve all outstanding disputes, especially Jammu & Kashmir with India through peaceful means and in accordance with UN Security Council resolutions
It further said that Pakistan has been the primary victim of terrorism in the region and its contributions and sacrifices in fighting terrorism are un-matched.
"No country has sacrificed as much as Pakistan, not only in material resources but in lives," it added.
Pakistan also expressed its concerns on the sale of advanced military technologies to India. "Such sales accentuate military imbalances in the region and undermine strategic stability in South Asia."
President Trump and Prime Minister Modi have pledged to deepen defense and security cooperation, building on the United States' recognition of India as a Major Defense Partner.
"The United States and India look forward to working together on advanced defense equipment and technology at a level commensurate with that of the closest allies and partners of the United States. Reflecting the partnership, the United States has offered for India's consideration the sale of Sea Guardian Unmanned Aerial Systems, which would enhance India's capabilities and promote shared security interests," said the Indo-U.S. joint statement.
Earlier, in a major vindication for India and embarrassment for Pakistan, the U.S. Department of State on Monday designated Hizbul Chief Mohammad Yusuf Shah, also known as Syed Salahuddin, as a 'Specially Designated Global Terrorist'.
With the Donald Trump Administration blacklisting Salahuddin as a 'Specially Designated Global Terrorist' for his atrocities in Jammu and Kashmir, Pakistan accused the United States of singing to India's tune.
Asserting that there would never be any compromise on rights of Kashmiris and Pakistan would continue to support their cause 'till realisation of right of self-determination in accordance with UN resolutions', Interior Minister Chaudhary Nisar Ali Khan said they will continue their 'Kashmir freedom' campaign.
Khan further stated that the US administration has started speaking the language of India, reports Radio Pakistan.
-ANI