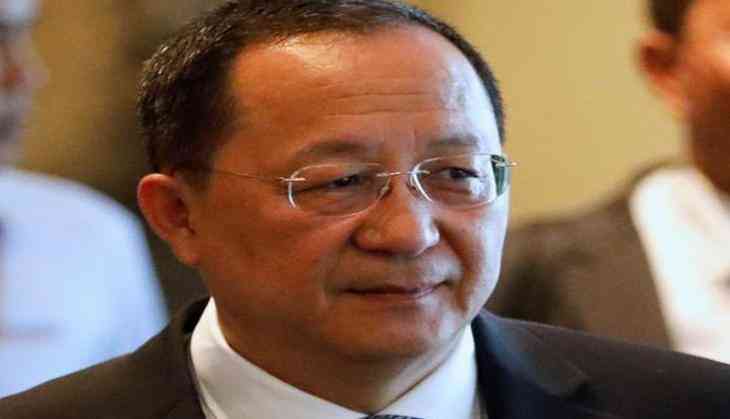 North Korea's Foreign Minister Ri Yong-ho on 20 September termed United States President Donald Trump's speech, in which he had bashed Pyongyang for its nuclear tests and said that if U.S. is threatened, "we will totally destroy North Korea," as "sound of a dog barking."
"There is a saying that goes: Even when dogs bark, the parade goes on. If (Trump) intended to scare us with the sound of a dog barking then he is clearly dreaming," the USA"> USA Today quoted Ri as saying, at the United Nations Headquarters in New York.
Trump, in his debut speech, at the U.N. General Assembly on Tuesday had attacked North Korea and termed its supreme leader Kim Jong-un as "a rocket man, who is on a suicide mission."
Ri, who will be addressing the UN General assembly on Friday, responding to Trump's "Rocket man" comments said he "feels sorry for (Trump's) aides."
Interestingly, North Korea's ambassador to U.N. had left his seat prior to Trump's arrival even as a junior North Korean diplomat remained.
The United Nations Security Council had condemned the launch of yet another ballistic missile by the Democratic People's Republic of Korea (DPRK) and called on the country's leadership to halt such activities and explore resumption of sincere dialogue on de-nuclearisation.
United Nations Secretary-General Antonio Guterres called on the DPRK leadership "to cease further testing, comply with the relevant Security Council resolutions, and allow space to explore the resumption of sincere dialogue on de-nuclearisation."
The U.N. Security Council referred to the latest launch as a "manifest violation" of its resolutions that comes less than two weeks after the DPRK conducted a test of a Hydrogen bomb on September 3. It also fired a missile over Japan, only three days after the Council unanimously adopted fresh sanctions against the country.
-ANI