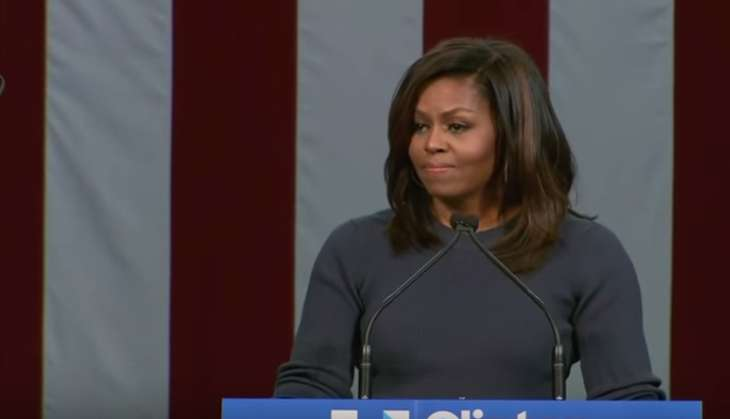 US First Lady Michelle Obama on 13 October took on Republican Presidential nominee Donald Trump at at a Hillary Clinton campaign event in Manchester, terming his outrageous remarks about women as "disgraceful" and "intolerable".
Asserting that Trump's behaviour had "shaken" her to the core, Michelle Obama said she could not believe that a nominee for the president of the United States had bragged about sexually assaulting women and it was "frightening".
"This was not just a lewd conversation. This wasn't just locker room banter. This was a powerful individual speaking freely and openly about sexually predatory behavior. And actually bragging about kissing and groping women," Michelle Obama said.
"It doesn't matter what party you belong to, Democrat, Republican, independent, no woman deserves to be treated this way. No one deserves this kind of abuse," she added.
Michelle Obama's response has come at a time when Trump's political campaign for the upcoming elections is already in chaos following the leaked footage, in which he could be seen boasting about groping women.
Speaking firmly on women's rights, Obama said it is disheartening to hear "shameful" comments on women's bodies and intellect especially after working for years "to end this kind of violence and abuse and disrespect".
Trump fought back against a cascade of allegations of sexual misconduct, which surfaced just days after a video emerged of him boasting that his fame allowed him to grope women with impunity.
The first lady affirmed that if Trump becomes the president of United States we are only encouraging the constant humiliation and objectification of women.
"We're telling our sons that it's ok to humiliate women. We're telling our daughters that this is how they deserve to be treated. We're telling all our kids that bigotry and bullying are perfectly acceptable in the leader of their country."
"If we have a president who routinely degrades women, who brags about sexually assaulting women, then how can we maintain our moral authority in the world?," she concluded.
Trump's presidential bid was teetering after claims from at least six women surfaced, alleging that he had made unwanted sexual advances towards them in the past, including groping and kissing.
In his second presidential debate with Hillary Clinton, Trump had said that despite his lewd conversation with then "Access Hollywood" host Billy Bush in 2005 captured on video, he had never sexually assaulted women.
--With PTI inputs