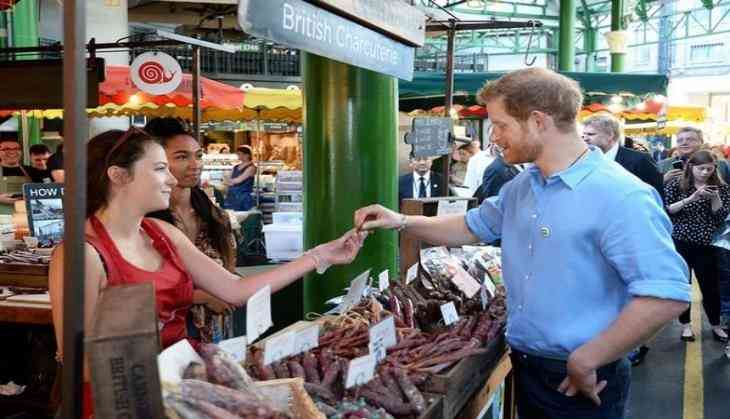 Prince Harry, who is the fifth in line to the British throne, has given a controversial statement that no one in the royal family really wants to take over the job of a monarch.
The 32-year-old royal said, "We are involved in modernizing the British monarchy. We are not doing this for ourselves but for the greater good of the people."
"Is there any one of the royal family who wants to be king or queen? I don't think so, but we will carry out our duties at the right time", the Washington Post quoted Prince as saying.
The prince also said that his personal priority was to lead an "ordinary" life, giving credit to his mother, Princess Diana, who died in a car crash in Paris in 1997, for inspiring him to do so.
Talking about grappling with the fallout of his mother's death, the Prince said that serving in Afghanistan helped him, "Even so, there were some dark years when I drank and smoked too much."
Harry even entered into a controversy in 2005 when a photograph showing him wearing Nazi insignia at a private party went viral on the Internet. Another time, he was caught partying, naked, in Las Vegas, alongside some scantily-clad women.
He also talked some about pulling the monarchy into the 21st century alongside his brother, Prince William, and sister-in-law, Catherine, Duchess of Cambridge. Referring to Prince William, he said, "Thank goodness I'm not completely cut off from reality. People would be amazed by the ordinary life William and I live."He said that he has tried to focus on serving a small number of charities, rather than the 600 the queen supports.
Harry also spoke about his attempt of trying to live an "ordinary life," a priority his mother instilled in him. He still does his own shopping, he said. He lives in an apartment near his brother William's family.
"Even if I was king, I would do my own shopping. But it's a tricky balancing act. We don't want to dilute the magic," Washington Post quoted Prince as saying. "The British public and the whole world need institutions like it."
In the line of succession, Prince Harry comes after his father, Prince Charles; Prince William; and Prince William's children, Prince George and Princess Charlotte.
-ANI