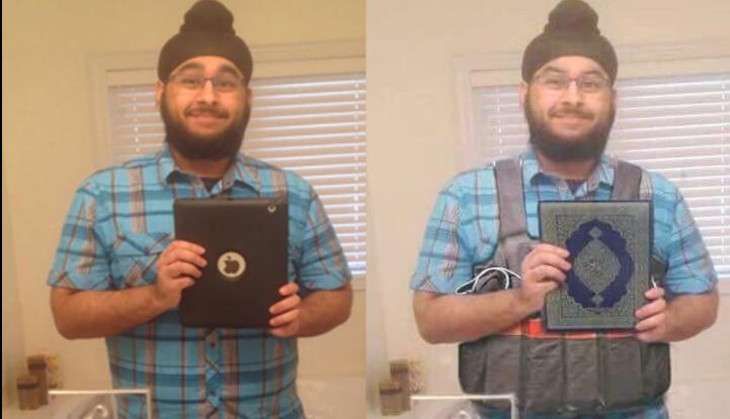 Veerender Jabbal, who came under attack last year after his photoshopped image that made him look like a terrorist involved in the Paris attacks went viral on social media, is being targeted yet again. Now, Jabbal is being blamed for the Nice attack in France that claimed the lives of 84 people and injured over 100 on 15 July.
A photoshopped image of Jabbal has started doing the rounds again on social media with people claiming that he was behind Nice attacks.
@MaximumOverhonk Veerender 'Slaughter them all, the west shall fall' Jubbal

— Arcon 🏴‍☠️ (@Arcon_) July 15, 2016
It's not just the Paris and Nice attacks; a social media user has also blamed him for the Istanbul attack back in June that claimed 45 lives.
Last year, Veerender Jabbal's was bombarded with hate mail and messages when his photoshopped image went viral. He finally shared the original picture on his Twitter timeline to set the record straight.
Ready: pic.twitter.com/ae9xEej4gS

— Veerender Jubbal (@Veeren_Jubbal) August 4, 2015
In a interview with the Guardian, Jabbal said that soon after the image went viral he started receiving death threats. He revealed that it became difficult for him to leave his own house.
"I have always had depression, anxiety and OCD, but after the death threat, it got worse. I became hesitant to leave the house alone. I was invited to a New Year's Eve party hosted by a governor in Toronto, but I didn't go. I was grateful for the invite, but it was problematic: I had been invited for being someone who didn't cause the Paris attacks." Jabbal told Guardian.
However, this time a few people extended their support to him and have been speaking up for Veerender Jabbal.
Racist fools are attacking Veerender Jubbal AGAIN?!

— Amadi (@amaditalks) July 15, 2016
1.5 years after #JeSuisCharlie, someone is framing Veerender Jubbal again for #NiceAttack. This is what racism is about.

— Peter Lin (@prodigalgeek) July 15, 2016
Okay, I hardly ever yell. But right now I want to scream at people who are trying to frame Veerender Jubbal AGAIN.

— Nyn (@Lawilc01) July 15, 2016