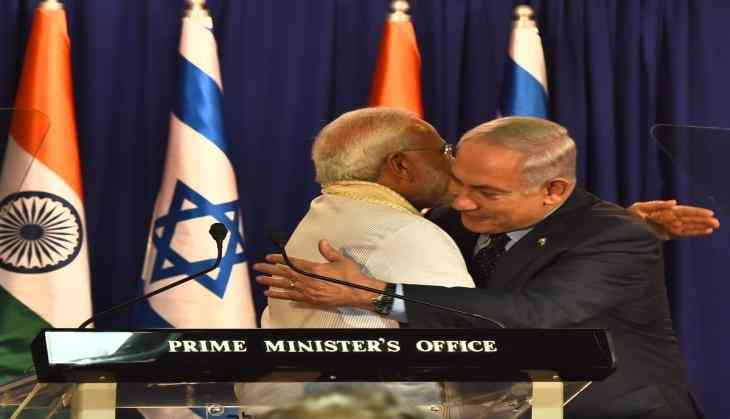 India, Israel sign seven MoUs
New Delhi and Tel Aviv signed seven Memoranda of Understanding (MoUs) on Wednesday in the presence of Indian Prime Minister Narendra Modi and his Israeli counterpart Benjamin Netanyahu at Jerusalem which includes cooperation in the fields of Science and Technology, Space, Agriculture and Water.
No deals were signed in the area of Defence as were being talked about.
Unveiling the seven MoUs, Netanyahu said, "We are making history together with my friend Prime Minister Modi and this is deeply moving moment for me, both in personal and national and international terms."
The seven MoUs, which were signed between Israel and India, are as follows:
1) MoU for setting up of India-Israel Industrial R&D and technological Innovation Fund.
2) MoU for Water Conservation in India
3) MoU on State Water utility reform in India
4) India-Israel development Cooperation -3 years work program in Agriculture 2018-2020
5) Plan of cooperation regarding cooperation in Atomic Clocks
6MoU regading cooperation in GEO-LEO Optical link
7 MoU regarding cooperation in Electric Propulsion for small Satellites
Netanyahu hailed the India-Israel relationship as a "marriage made in heaven" which is being executed here on earth.
On terrorism, Netanyahu said, "We are being challenged by the forces of terror that is undermining our peace and stability. We agreed to cooperate in this area as well."
Prime Minister Narendra Modi, who is on a three-day visit to Israel, on this occasion, said, "Both countries have faced first-hand violence. We understand our realities and India recognises the courage and tenacity of the Israeli people, their will to persevere against all odds."
"We are working towards increasing productivity in key areas. Our scientists and researchers are working together to achieve this. We are focussing on biotechnology, and science to ease the problems of our countries face," he added.
Prime Minister Modi thanked the Israeli Prime Minister for his warms words and "exceptional" welcome he received on his maiden visit to the country.
"I am honoured to be in Israel on this exceptional visit. Our belief in democratic values and economic progress has been a shared pursuit," he said.
"Prime Minister Netanyahu and I have had productive discussions covering an extensive menu of issues. Our goal is to build a relationship that reflects our shared priorities and draws on enduring bonds between our peoples. We regard thriving two-way trade and investment flows as the bed-rock of a strong partnership," he added.
-ANI