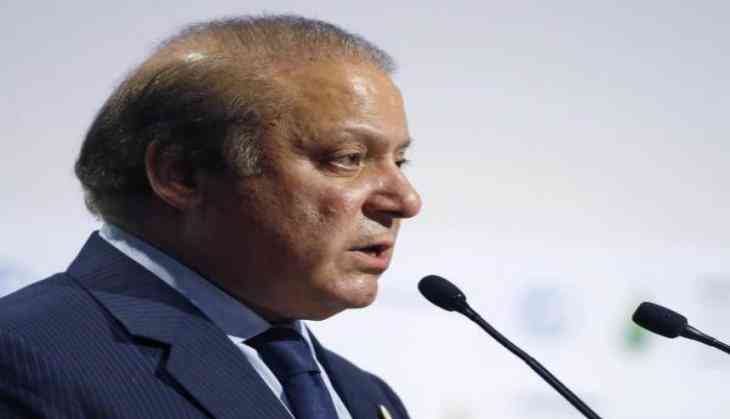 Ignoring security threats, former prime minister Nawaz Sharif began his two-days journey for Lahore via G T Road on 9 August, saying "his innings was not over ".
Sharif avoided answering questions on the chances of him returning as prime minister, but indicated that he would remain active in politics, saying confidently that his innings was not over.
"When I was sent into exile by Musharraf, many believed that was the end of my political career. But it did not happen then, and it will not happen now."
Prime Minister Shahid Khaqan Abbasi has also arrived at the Punjab House to meet the former premier prior to his departure. A meeting between the two leaders is underway.
His caravan will first gather at D Chowk from where it will reach Faizabad via Zeropoint.Nawaz Sharif is expected to address the supporters and PML-N party workers at different places en route to Lahore.
The PML-N workers from across Punjab are being mobilised by the local leadership to reach Lahore and other points to welcome their leader who was disqualified by the Supreme Court in the Panama Papers case on July 28, to get a 'Turkey like public reaction' and to gather the much-needed political mileage in the face of the challenges its government is facing, the Dawn reported.
City roads have been decorated with welcome banners that read : "A leader does not need any post... as he lives in hearts." The banners are from the local leaders and ministers as well.
"I will not wait for the situation to calm down because I have every right to go home," Dawn quoted Nawaz as saying at the Punjab House on Tuesday.
Reports suggested that his brother Punjab Chief Minister Shahbaz Sharif, Interior Minister Ahsan Iqbal and his predecessor Chaudhry Nisar Ali Khan were among several close figures who warned the ousted PM against proceeding to Lahore by road.
Nawaz Sharif emphasised that he had never tried to create anarchy in the country - be it the days of the Pakistan Tehreek-i-Insaf sit-in outside parliament, attempts to lock down the capital or matters relating to the Panama Papers case.
Sharif said a petition seeking a review of his disqualification would soon be filed before the Supreme Court with the plea that a larger bench hear the case.
Lamenting that none of the 18 prime ministers in the country's history had ever completed their constitutional term in office, he said that just three dictators had ruled the country for decades.
He said the Constitution was abrogated again and again, but the judiciary not only legitimised military rule every time, but even went to the extent of giving military dictators the right to amend the Constitution at their whim.
"Countries cannot be run like this," he remarked, saying this was a time for grand debate, both inside and outside parliament, to find a way forward.
He blamed lack of continuity as the major reason for the country lagging behind in terms of economic progress.
He regretted that he was once removed as prime minister under the now-defunct Article 58(2)(b) of the Constitution, termed a hijacker by General Muhaarraf and had now been disqualified by the judiciary on an allegation never mentioned in the petition.
"Why should I have disclosed a salary I never withdrew from my son's company?" he asked, adding that a prime minister elected with the votes of 200 million people should not have been treated in such a way.
-ANI