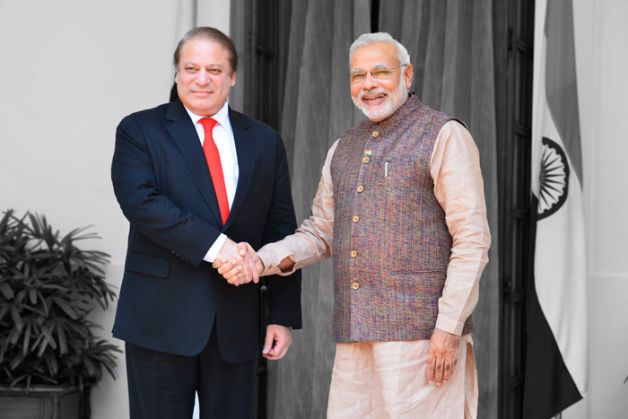 PM Modi will visit Pakistan after his Kabul visit for Nawaz Sharif\'s birthday.
Sharif was born on December 25, 1949.
Prime Minister Narendra Modi, who is on a one-day trip to Kabul surprised many by announcing his itinerary on Twitter. Modi stopped in Pakistan on his way back and meet his counterpart Nawaz Sharif.

Incidentally, it is Sharif's birthday and also Modi's first visit to the neighbouring country.

External Affairs Minister Sushma Swaraj has commended the move, calling it 'statesman-like.'

She had recently visited Pakistan for 'Heart of Asia' conference and also initiated composite dialogue.

He was received by Sharif at the airport from where the duo headed to the Pakistani Prime Minister's residence, where his grand-daughter's wedding is being held. After blessing the bride, Modi left for Delhi.

The move was welcomed by Kashmiri separatist leader Mirwaiz Omar Farooq and former Jammu and Kashmir Chief Minister Omar Abdullah. MEA spokesperson Vikas Swarup tweeted that the two leaders discussed Indo-Pak relations.

The relations between India and Pakistan have witnessed some positive developments in recent past. The two countries recently decided to launch a comprehensive dialogue after Mr Modi and Mr Sharif met in Paris.

Modi inaugurated Afghanistan's Parliament building, which has been built by India. During his speech, Modi announced his itinerary to visit Pakistan on Prime Minister Nawaz Sharif's birthday.

Prior to this, he had also extended birthday greetings to his Pakistani counterpart Nawaz Sharif.

"I wish the Prime Minister of Pakistan, Nawaz Sharif on his birthday and pray that he remains in wonderful health," Modi tweeted.

Sharif was born on December 25, 1949.