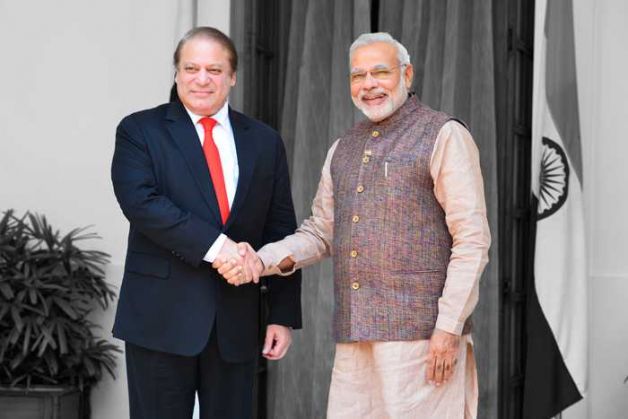 Narendra Modi had tweeted that he would make a stop-over in Lahore and is expected to spend a couple of hours in Pakistan.
Donning white kurtas and jackets, both Modi and Sharif are expected to visit the \'birthday\' boy\'s ancestral home.
PM Narendra Modi, who announced his decision to visit Pakistan and meet Nawaz Sharif early today, has landed in Lahore. He is the first PM to visit Pakistan since 2004 after Atal Bihari Vajpayee's visit.
Modi visited Kabul, Afghanistan on 25 December and gave an impassioned speech on bringing peace and order to the war torn country and in entirety to the whole South Asian region. He lauded change-makers, spoke at the Afghan parliament and then, suddenly announced his plans to visit Pakistan.
He was greeted with a brief hug from his Pakistani counterpart Nawaz Sharif as he landed in Lahore after springing a surprise in a tweet announcing that he would drop by on his way back to Delhi from Kabul.
Both the leaders donned white kurtas and jackets and walked together to a chopper that is expected to take PM Modi to the ancestral home near Lahore of Mr Sharif, who is celebrating his 66th birthday today as reported by news agencies.
"That's like a statesman. Padosi se aise hi rishte hone chahiyen (ties with neighbours should be like this)," tweeted Foreign Minister Sushma Swaraj.
Also read: Modi in Lahore, Sharif in Delhi: How India-Pakistan are juggling diplomatic relations