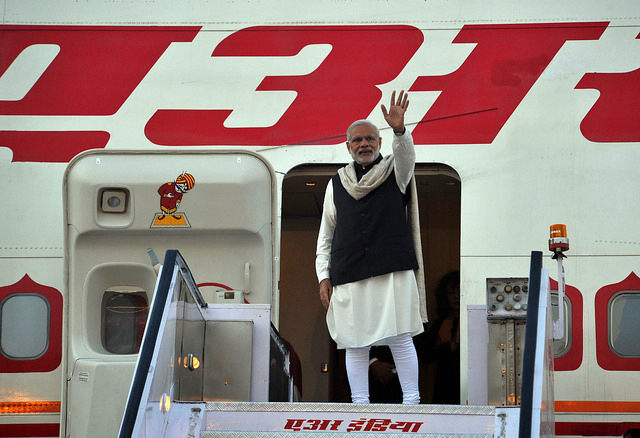 Seeking to strengthen Indo-UK economic ties, Indian Prime Minister Narendra Modi on Thursday, 12 November reached Britain to begin his first visit to the country with a hectic schedule that will start with talks with his British counterpart David Cameron.
"Leaving for UK. I am hopeful this visit will strengthen economic ties between India and UK & bring more investment to India. #makeinindia," he tweeted before starting his three-day visit.
"My visit to UK is the first Prime Ministerial visit in almost a decade. I have had the opportunity to meet Prime Minister David Cameron at various international forums and our meetings have been productive. Prime Minister Cameron is a good friend of India's, and we in India have had the privilege of welcoming him thrice during his first term as Prime Minister," Modi had written in on Facebook ahead of the visit.
Talks around defence and security:
Indian and British government officials were quoted in news reports that they are likely to announce three separate outcome documents - on development partnership, defence and security, and energy and climate change. It further added that a vision statement on overall bilateral relations will also be presented.
Here's Modi's itinerary in UK:
Narendra Modi will arrive on Thursday morning and head for talks at 10, Downing Street, followed by an address to the British parliament.
On Thursday, he will address a joint press conference at the Foreign and Commonwealth Office (FCO) after the bilateral talks
Post this, he will leave for David Cameron's country residence, the Chequers.
On Friday, he will address the CEOs' Forum.
Post this, he will have lunch with Queen Elizabeth II, and address the Indian community at Wembley Stadium.
On Saturday, he will inaugurate B R Ambedkar's memorial, before leaving for the G-20 summit in Turkey.
-- With agency inputs