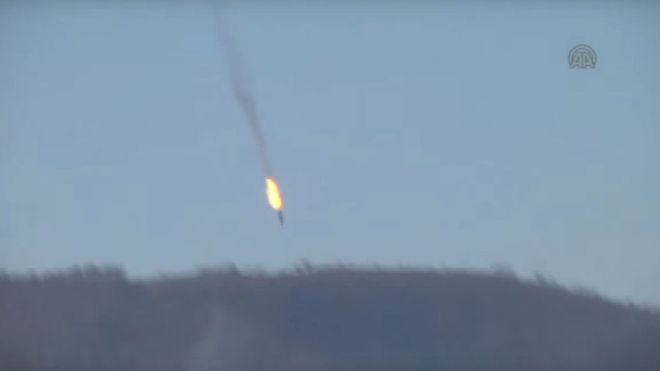 Russia on Tuesday said that the military plane Turkey shot down at the Syrian border was a Russian Sukhoi Su-24 jet, adding that the jet did not enter Turkish space.
"Presumably as a result of firing, an Su-24 plane of the Russian forces crashed in the Syrian Arab Republic," Russian news agencies quoted the defence ministry as saying. The ministry said the fate of the pilots was not yet clear.
According to BBC News, Russia's Interfax news agency cited the Russian defence ministry as saying that a Su-24 had crashed in northern Syria, and that its two pilots had ejected.
Turkish military officials said Turkish F-16s had shot down the plane after repeatedly warning its pilots that they were violating Turkish airspace.
Russia has launched an air campaign to bolster Syrian President Bashar al-Assad's government in late September.
Meanwhile, Russian President reacted to Turkey convening NATO meeting and the attack:
Vladimir Putin called #Turkey's downing of a #Russia fighter jet "a stab in the back" carried out by the accomplices of terrorists

- Abdullah Bozkurt (@abdbozkurt) November 24, 2015
#Putin: it is strange that #Turkey called for the extraordinary #NATO meeting. Looks like we shot down their jet not the other way. #Su24

- Alexey Khlebnikov (@AleksKhlebnikov) November 24, 2015
Putin: downing of Russian plane over Syria is backstabbing,will have consequences.Does Turkey want NATO to serve IS? pic.twitter.com/nywAt7uGwz

- Russian Embassy, UK (@RussianEmbassy) November 24, 2015
With PTI inputs