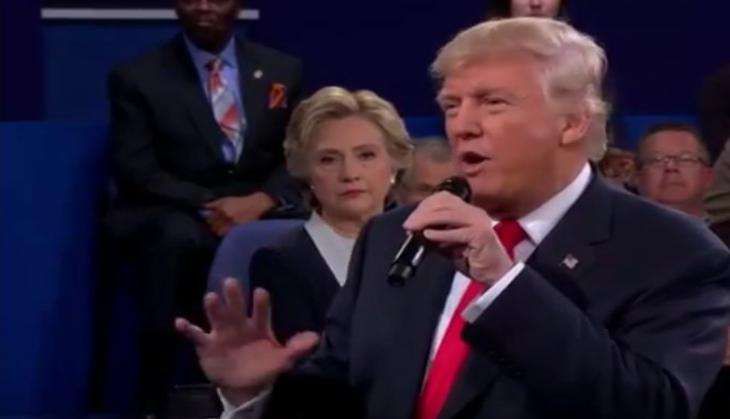 US Presidential frontrunners Hillary Clinton and Donald Trump exchanged bitter barbs at the second presidential elections on 9 October at St Louis.
The two took each other on on topics including Trump's lewd tape, his alleged tax evasion, Clinton's email server row and rape allegations against Bill Clinton, to name a few.
During the 90-minute-long debate, Clinton berated Trump for the 2005 video - which was circulated 48 hours before the debate. On his part, Trump lashed out at Clinton for defending her husband, former US President Bill Clinton and alleged that he had raped several women. Trump also claimed to have the support of four such women, who were present at the debate.
Also Read: Donald Trump Vs Hillary Clinton: Lewd tape, email row & other highlights from the debate
Here is how Twitter reacted to the second debate:
Some noticed the lack of a handshake - a marked difference from their first presidential debate on 29 September.
Can't blame you @HillaryClinton, I wouldn't touch the weapon of sexual assault either #nohandshake #ImWithHer

— Michael Sharp (@MichaelJASharp) October 10, 2016
I wouldn't touch his hand either. ..he's grabbin genitals #nohandshake

— Kathywhite (@white2961) October 10, 2016
Some users joked that like the first debate, Trump was sniffing again.
I guess something was wrong with his mic again. #sniffsniff #sniffles #Debates2016 #ThatCokeNoseThing

— Suzy (@friedpiesrgood) October 10, 2016
Others did not take too kindly to the fact that Clinton had compared herself to Abraham Lincoln
BREAKING: Abe Lincoln weighs in on #debate pic.twitter.com/8BhjGnYOkk

— Michael Mossberg (@MichaelMossberg) October 10, 2016
Going to be a long night in the spin room...

Hillary compares herself to Abe Lincoln

She has zero self awareness? https://t.co/pTcLgJJSTu

— DJ (@blaubok) October 10, 2016
Here's a handful of reactions from both camps and neutral viewers alike:
Watching Trump is like watching a small minded petulant child I have know 1st graders who are in more command of themselves than he is.

— Clayton D Brannon (@ahbrannon) October 10, 2016
When Trump said "No I did not" to ques. about whether he committed sexual assault, did anyone else see Hillary almost smile? #Debates2016

— Vicky (@vickyderd) October 10, 2016
#Debates2016 was like a brainWash! I couldn't believe as the game became so insane! #US citizen good luck after your vote!🙈🙉

— Loreena (@Louangie) October 10, 2016
At work watching the debate rerun.

They was not tryna let Donald Trump talk 😂😂

— Dra9oon (@TheSoldierLife) October 10, 2016
Debate verdict : I weep for humanity #debate #USPresidentialDebate #imwithnobody

— #Symbelmynë (@Namith_117) October 10, 2016
"She has tremendous hate in her heart." @realDonaldTrump

[inserts super-creepy fake smile] @HillaryClinton #debate

— Fake J.D. Greear (@FakeJDGreear) October 10, 2016
Trump lurks behind Clinton: Twitter takes notice
Trust Twitter to cash in on a meme-worthy moment in a debate as bitter and combative as this one. Trump lurked behind Hillary Clinton - a shot that was captured and instantly immortalised in a meme.
I LOVE THE INTERNET 😂😂 #debate pic.twitter.com/D9RLJh6V4Y

— Common White Girl (@girlposts) October 10, 2016
💀💀💀💀 pic.twitter.com/snotvaC4Yi

— Austin Hunt (@AustinHunt) October 10, 2016
"He's right behind me, isn't he?" #debates pic.twitter.com/4hGvvJ5XK2

— Kevin O'Keeffe (@kevinpokeeffe) October 10, 2016