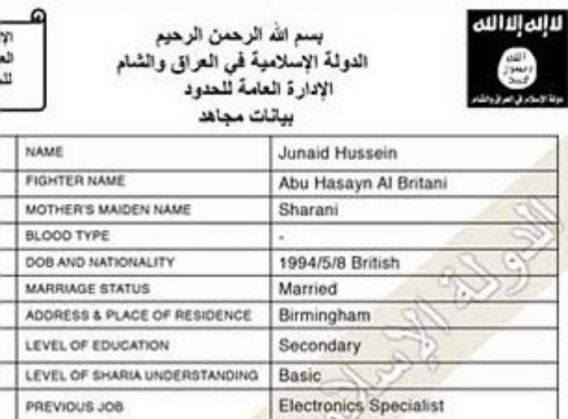 Several leaked data sets accessed by new agencies provide an insight into the Islamic States\' recruitment process.
Data reveals nearly 72 per cent Daesh fighters on the list are Arabs.
Among other personal questions, potential fighters have to explain why he wants to join the group and whether he wants to be a fighter or a suicide bomber.
It seems he the Islamic State operates like any other bureaucracy in the world - with lots of paperwork. A large cache of "recruitment registration forms" by the insurgent group also referred to as Daesh were obtained by Zaman Al Wasl - a Syrian news website, known for its opposition leanings.
Personal data of 1736 Daesh fighters from over 40 countries revealed recruiting patterns, details of foreign fighters, family background, and more. The documents are believed to be collated by the General Administration of Borders, and ISIS commission that tracks Jihadists data.
Another similar set of documents, with over 22,000 names, covering recruits from 51 countries, was accessed by Sky News. A disillusion former fighter handed over the documents stolen from the head of Islamic State's internal security police, to the media organisation.
The forms pose 23 questions to new recruits, mostly dealing with their personal details, as well as questions on their abilities, religious expertise and their new names, Sky News reveals.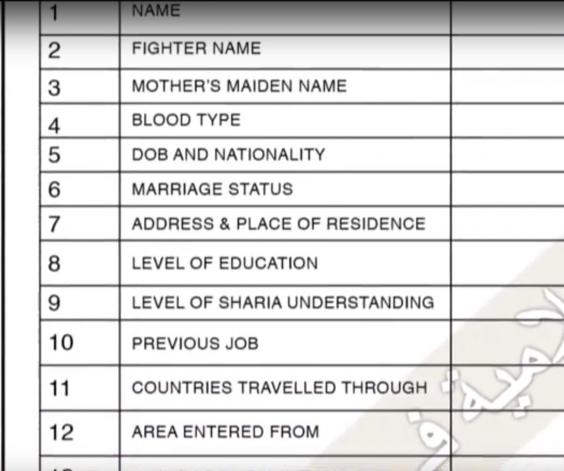 Among other questions, the potential fighter also has to explain why he wants to join the group and whether he wants to be a fighter or a suicide bomber.
Zaman Al Wasl data sheds light on the national break up of these recruits. It shows that nearly 72 per cent Daesh fighters are Arabs from Saudi Arabia, Tunisia, Morocco and Egypt. Interestingly, Syrians make up only 1.7 per cent of the recruits on the list. Among European recruits, most fighters come from France. Plus, at least four were said to be from the US and six from Canada.
The forms also ask potential recruits about the countries they've travelled through. This will help authorities track terrorist activity and movements across countries as well as within Europe.
Here's a closer look at one of the forms: