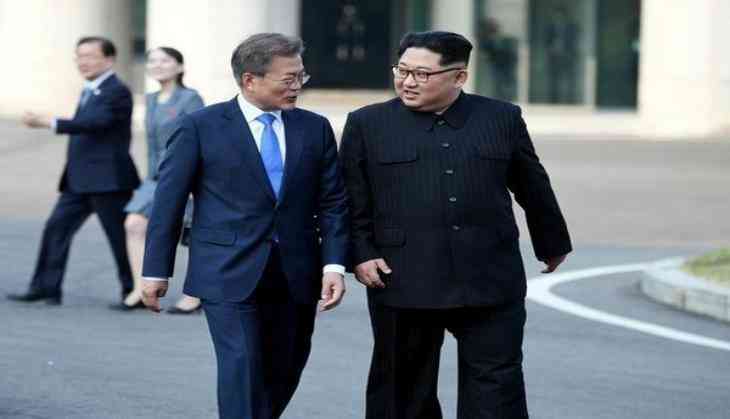 South Korean President Moon Jae-In said on Sunday that North Korean leader Kim Jong Un has reaffirmed his willingness to hold a summit with the United States.
As reported by the Yonhap News Agency, Kim has vowed for the complete denuclearisation of the peninsula following his pledge in the Panmunjom Declaration and expressed his willingness to end the history of war and confrontation through the success of the summit.
"We two leaders have agreed the June 12 North Korea-U.S. Summit must be successfully held," Moon Jae-In told a nationally televised press conference.
The latest inter-Korean summit was held on April 27 at the North Korean side of Panmunjom, a border village that at the Military Demarcation Line that divides the two Koreas.
"While explaining the outcome of my summit with U.S. President Trump held last week,
I relayed the message that President Trump is firmly willing to end his country's hostile relationship with North Korea and enhance economic cooperation should Chairman Kim make a decision on complete denuclearization and implements it," Moon said.
Moon and United States President Donald Trump held a summit on May 21 to discuss the denuclearisation of North Korea and save their summit.
Earlier on Sunday, President Trump informed that his team has arrived in North Korea to make arrangements for the summit. He also appreciated North Korea's current economic position.
This comes after Trump had issued an official letter to Kim to call off the summit following the latter's threats to do the same following the US-South Korea 'Max' military drills.
Earlier this month, North Korea threatened to withdraw from the Trump talks if the US continued to insist Pyongyang abandon its nuclear program.
(ANI)