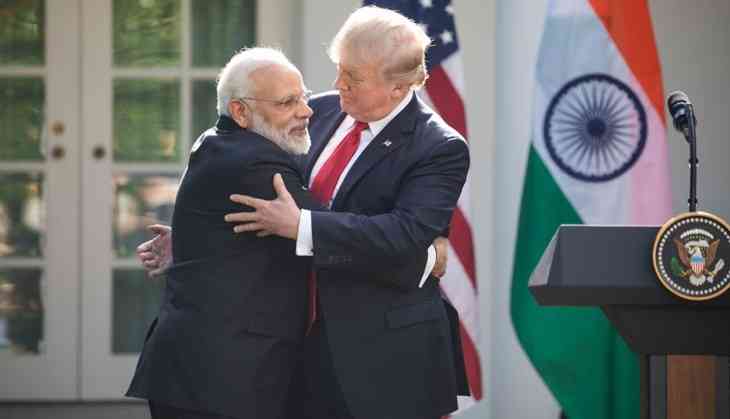 India under the leadership of Prime Minister Narendra is seeking to get closer to the United States and gain its support at the cost of China-India ties, and has taken the lead in containing Beijing's rise, feels a senior fellow of Shanghai Institute for International Studies and a visiting fellow of the Chongyang Institute for Financial Studies, Renmin University of China.
In article authored by him and published by the state-run Global Times, Liu Zongyi opines that the global popularity of Prime Minister Modi probably convinced Washington to reach a bipartisan consensus to push its relationship with India forward to counter-balance China.
"Developing bilateral relations between the U.S. and India is a sign that Trump's diplomacy is gradually returning to normal," Zongyi said.
The Global Times further quotes Zongyi, as saying that Prime Minister Modi was the fifth foreign leader that Trump spoke with over the phone since being sworn in as U.S. president on January 20, but Trump's face-to-face meeting with Modi came after his meetings with over 20 heads of state.
Mr. Zongyi said that he was of the view that India was worried that China and the U.S. were likely to reach an agreement to "co-govern" the Asia-Pacific region, and therefore, the Modi government "urgently needed to reassure itself on Trump's stance toward India and attempted to make the US-Indian relationship distinctive and special."
To ensure this, according to Zongyi, Prime Minister Modi took two measures ahead of his meeting with President Trump.
"The first one was to seal an arms deal with the U.S. For America, the weapons deal will not only reap enormous monetary gains from India, but also strengthen India's advantage in the Indo-Pacific region to check China. The other measure aimed to demonstrate to the U.S. India's firm determination to constrain China's rise, was impeding Chinese workers from building roads a few days before Prime Minister Modi undertook his visit to the U.S. Apart from territorial dispute, India announced that it would initiate an anti-dumping probe against high tenacity polyester yarn from China."
In terms of combating terrorism, the U.S. designating United Jihad Council Chief Syed Salahuddin as a "global terrorist" is what India pursued and accepted "the US view that Pakistan is a source of regional disputes, rather than a catalyst for dispute settlement."
Zongyi also said that during his visit to Washington that while Modi didn't mention existing problems in India-US ties, President Trump did not hold back and reminded him of protectionism in trade and investment in India that jeopardizes American interests, suggesting that Washington did put greater weight on economic diplomacy.
The Chinese academic also described President Trump as an individual "adept at making deals" and as a person who valued "real benefits and strength".
He opined that "Despite Trump's respect for Modi, an India that lags far behind the U.S. and China in national strength is unlikely to win Trump's affection. The US-India relationship has been beset by some thorny issues like the US trade deficit to India, the US restriction on granting H-1B visas and climate change since last year."
He also says that Prime Minister Narendra Modi's visit to Washington last week "was not a historic event, as some media outlets in India boasted, because of the limited results the meeting has achieved", but added that "Modi has established a relatively harmonious relationship with Trump."
He concluded by saying that "The U.S. supports India to counter-balance China, but tries not to offend China as Trump still needs China's help on many issues."
-ANI