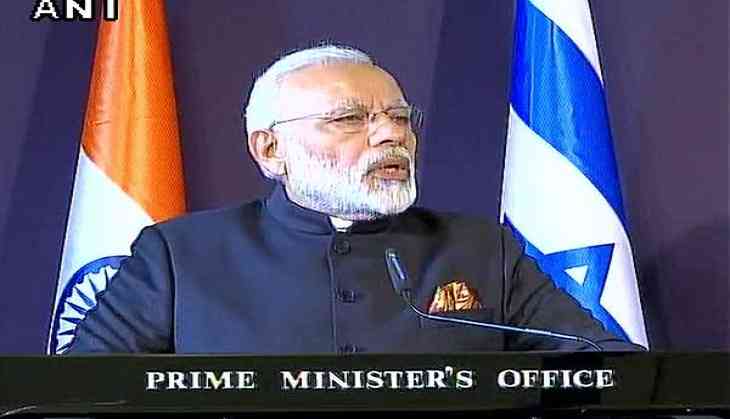 Indian Prime Minister Narendra Modi and his Israeli counterpart Benjamin Netanyahu on Wednesday agreed for further cooperation between the two nations in the fight against growing radicalisation and terrorism.
After holding a restricted bilateral meeting with Netanyahu the Indian Prime Minister said in a joint statement, "Prime Minister Netanyahu and I agreed to do much more together to protect our strategic interests and also cooperate to fight against growing radicalisation and terrorism including in cyber-space," even as he acknowledged that both countries are a victim of violence and hatred spread by terror.
"We also discussed the situation in the West Asia and the wider region. It is India's hope that peace, dialogue and restraint will prevail," he added.
Speaking on business ties, the Prime Minister said that business on both sides should take primary lead in such efforts and that this would also be the message to the CEO forum meeting tomorrow.
Prime Minister Modi said that he had productive discussions with the Israeli leader covering an extensive menu of issues, not just on areas of bilateral opportunities, but also how cooperation between the two sides can help the cause of global peace and stability.
Post the talks, the two countries also signed seven MOUs including one between Department of Science and Technology of India and the National innovation Authority of Israel for setting up of Indisa-Israel R&D and technological innovation fund which will provide 40 million dollars for the projects for a period of five years.
Three agreements were signed relating to space - MOU between ISRO and Israel space agency for cooperation in electric propulsion for small satellites, MoU between ISRO and Israel space agency for cooperation in Geo-Leo optical links, and plan of cooperation between ISRO and Israel space agency for cooperation in atomic clocks.
Others included, MoU for India- Israel Development Cooperation - 3 year development program in Agriculture, MOU on state water utility reform in India and MOU on water conservation.
Prime Minister Modi also used the platform to extend an invitation to Prime Minister Netanyahu to visit India.
-ANI