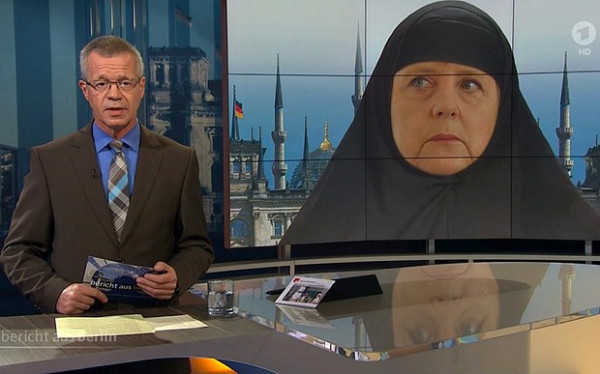 A German news channel, ARD television has been inundated with constant complaints after it broadcast a mock-up image of Germany's chancellor Angela Merkel wearing Iranian headscarf 'Chador', against a backdrop of the Reichstag surrounded by minarets.
ARD showed the image during a debate on the refugee crisis on their show Report from Berlin that evoked negative reactions after the Right-wing extremist group Pegida managed to pull together a major rally against immigrants. The broadcaster has claimed that the program was meant to be satirical.
Meanwhile, ARD has defended the use of the image in a statement, "We consider this satirical form of representation to be in keeping with our journalistic values. We reject any insinuation that we would operate Islamophobic propaganda."
"This is not constructive journalism. Ugh! The mood turns because of such defamation and propaganda. So yes it's true: integration cannot succeed," read one comment on the program's Facebook page.