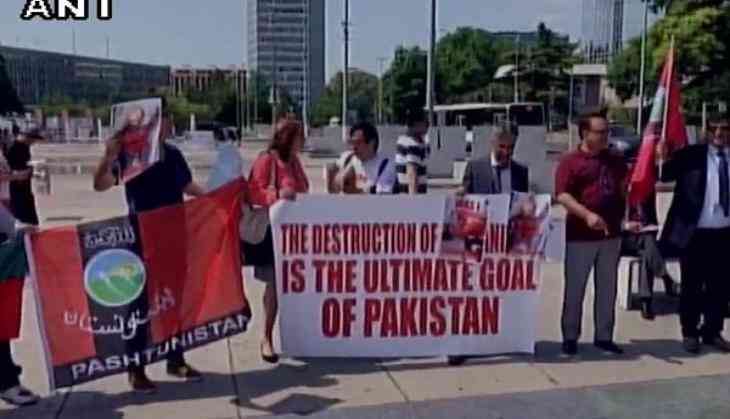 The Baloch Voice Association demonstrated in front of the iconic Broken Chair, which stands across the street from the Palace of Nations here, during the 35th Session of the United Nations Human Rights Council even as it highlighted the atrocities of the Pakistan state against Balochs and Pashtuns.
The protest held on 11 June was also joined by the Baloch Kashmiri Pashtoon and Uighur representatives.
The protestors alleged that Pakistan illegally annexed Balochistan in 1948 and the Punjabi-dominated state government has on purpose kept the region undeveloped.
They added that Pakistan had used brute force in suppressing any demands of independence.
"Balochistan, the land of the Balochs, was illegally annexed by Pakistan in March 1948. The Pakistan Government, by design, has kept the province underdeveloped, while looting its rich natural resources throughout the years. The Punjabi-dominated state establishment of Pakistan has used brutal force against the Baloch population and to suppresses any demand of independence," said one of the protestors.
One of the representatives alleged that originally the China-Pakistan Economic project was aimed at developing the Baloch and Pashtun regions, but later 80 percent project and construction was dragged back to Punjab while using Pashtun and Baloch resources.
He also urged the United Nations to take notice of the grave human rights violations in these regions including Pakistan occupied Kashmir and Gilgit Baltistan.
-ANI