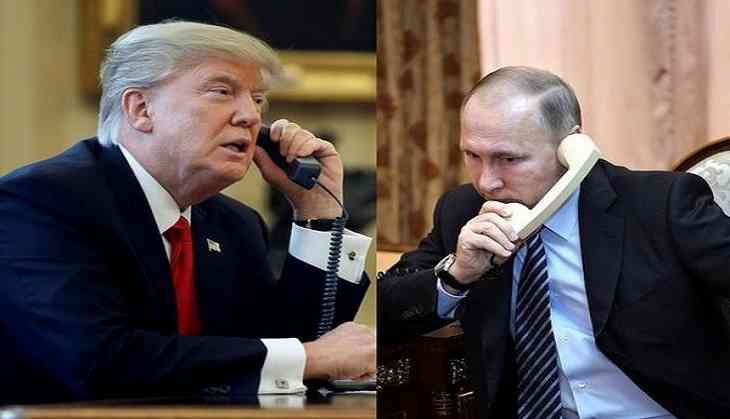 US President Donald Trump is set to hold telephonic talks with Russian President Vladimir Putin on Tuesday.
Kremlin spokesman Dmitry Peskov confirmed the development, according to Sputnik.While releasing the daily schedule, White House stated that Trump's phone talks with Putin would be held at 16:30 GMT.
Today's talks holds much significance as recently Moscow and Washington were engaged in a bitter battle over U.S. missile strike on Syrian military airfield on April6.
Trump ordered 59Tomahawk cruise missile strikes on Syria in response to a chemical weapons attack in the rebel-held Syrian town of Khan Sheikhoun in Idlib province.
This is not the first time that both the leaders are having telephonic conversation, Trump and Putin earlier held phone talks twice after Trump's inauguration.
Trump accused Bashar al-Assad regime of carrying out the chemical attack, while both Russia and Damascus have denied the Syrian government role in the barbaric chemical weapons attack that killed 70 people.
Trump had stated that "United States is not getting along with Russia at all "and relations between the countries may be at an all time low".
Trump is likely to talk on cooperation in fight against terrorism after a subway bombing in St. Petersbug, Russia last month.
-ANI