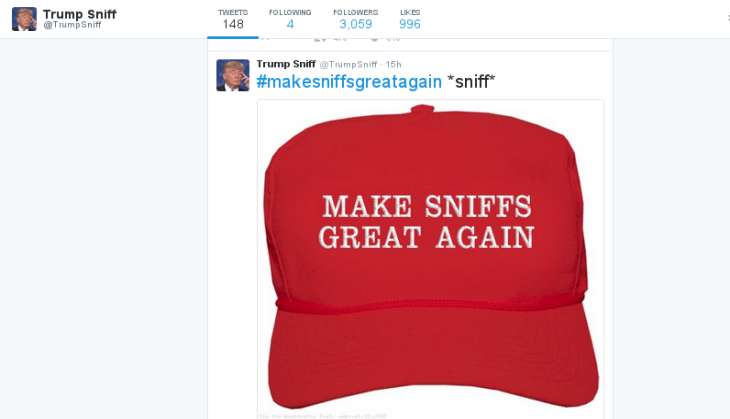 American presidential candidate, Donald Trump has enough passion to mix style and concern as he introduced a new sniff during this year's first Presidential debate.
As Trump and Hillary Clinton kicked off the debate at Hofstra University in Long Island to discuss several topics impacting American people, viewers noticed the businessman's case of the sniffles, reports E! Online.
While that was the small noise, which punctuated much of what the Republican presidential nominee had to say during the debate, some viewers took to sarcastic memes and it even resulted in a number of new Twitter accounts like @TrumpSniff, one which tweeted, "#makesniffsgreatagain *sniff*." "MAKE BLOW GREAT AGAIN *SNIFF* #debatenight," another tweeted.
Also Read: Donald Trump - Hillary Clinton debate: Who won? This breakdown will help you decide
Other sarcastic quotes included, "Best quote of the #PresidentialDebate so far... "Sniff" - @realDonaldTrump," and "Here's the Trump sniffle supercut you've been dreaming of all debate #debates."
However, some were not impressed, as usual, with the peculiarly spontaneous candidate who is likely to introduce new things every time he addresses the nation.
"Trump keeps sniffing. This is making Hillary look healthy. #debatenight," another tweeted.
Moderated by NBC News' Lester Holt, the live televised event featured discussions themed to "America's Direction, Achieving Prosperity and Securing America."
Other memes trending at the end of America's 2016 first presidential debate were the 70-year-old's "numerous conversations" and "relationship" with the Fox News anchor, Sean Hannity, and Hillary Clinton's shoulder shake.
Take a look:
*time to snifflix and chill* #goodnighttwitter

*sniff* pic.twitter.com/QApEN2tQ4l

— Trump Sniff 👃 (@TrumpSniff) September 27, 2016
#makesniffsgreatagain *sniff* pic.twitter.com/yqNiY2UcYz

— Trump Sniff 👃 (@TrumpSniff) September 27, 2016
My entire TL suspects cocaine. I'm over here hoping for pneumonia. #Sniff #debatenight

— Amanda Bower (@heyprofbow) September 27, 2016
#TrumpTissues #TrumpSniffle #Sniffleupagus #TrumpSniffle #snifflecount #SniffCompetition #sniffitout #sniff #sniffnight #snifflesniffle pic.twitter.com/HnEFz8GF81

— sandra b go (@sandrabgo) September 27, 2016
Trump: I let black people and Muslims into my club!
The Law: Yeah. You have to do that. It's literally the law.
Trump: SNIFF SNIFF SNIFF

— Wil Wheaton (@wilw) September 27, 2016
People are saying @realDonaldTrump was on cocaine tonight. I don't know. It's what I'm hearing. Drug test would settle. #sniff #Debates2016

— Rebecca Arington (@puccinigirlnyc) September 27, 2016
How I can sum tonight up #sniff #Debates2016 pic.twitter.com/sY98mmfBw1

— Jason Kennedy (@jasonlkennedy) September 27, 2016
The sniff that launched a thousand memes

— Dan Pfeiffer (@danpfeiffer) September 27, 2016
Also Read: Hillary Clinton, Donald Trump clash over plans for US economy during 90-minute debate
--ANI
Watch the full debate here: