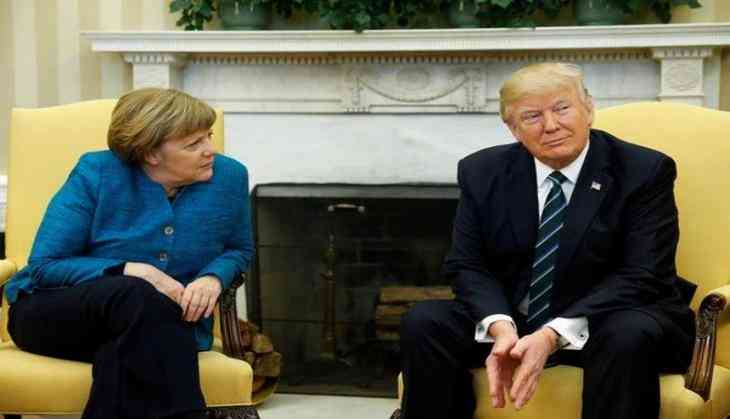 President of the United Sates of America, Donald Trump, during a joint news conference publicly rejected German Chancellor Angela Merkel's gesture of a handshake.
The joint news conference was held at the White House on 17 March. Not only did Trump refused a handshake, but also publicly disagreed on major issues. As soon as the incident happened, a short video of the awkward silence between the two great leaders made its way to the internet.
While people were still thinking about the incident and contemplating POTUS' weird body language and expression Twitter went into a meltdown.
That's how #DonaldTrump Make #America Great Again, but some people don't seem to think so Mr #President ;)

https://t.co/mwY2J572Q7

— Irram Athar Hayat (@HayatIrram) March 18, 2017
What hypocrisy. If #AngelaMerkel wud have refused a handshake - would have been a meme/joke for a month. #Trump

— Piyush Mehra (@mehraps) March 18, 2017
@TIME OMG! He refuses even a handshake with Angela Merkel! SMH! What kind of Pres is this? Totally bizarre & his body language is SO weird!

— Lunajoan (@Lunajoan_) March 18, 2017
#AngelaMerkel had that look all women get when someone else's kid is acting like a little shit. #handshake

— Melissa Hernandez (@maherhav) March 18, 2017
Trump was worried a strong German woman like Angela Merkel might crush his tiny hands. #handshake

— Alt Fed Employee (@Alt_FedEmployee) March 17, 2017
Yeah Trump was totally rude and mean when he didn't shake the hand of #angelamerkel. #handshake #Hannity pic.twitter.com/QrIGCLSQIf

— Mike (@Fuctupmind) March 18, 2017
Watching trump ignore Angela Merkel's handshake offer gives me that sick mixed feeling of embarrassment and dread in my stomach.

— feminist next door (@emrazz) March 18, 2017
Can you believe that Angela Merkel, the great leader of the free world, was denied a handshake by the crude so-called American president?

— Pinocchio Trumpsky (@gzusscripes1) March 17, 2017
America is a disgrace. Donald Trump can't even give Angela Merkel a handshake during their first meeting because he's too much of a baby.

— Tim Hess (@realtimhess) March 17, 2017
Being refused a handshake from Donald Trump is obviously a highest honor for Angela Merkel! pic.twitter.com/ylpkNPC64T

— reSisters (@resistersunion) March 17, 2017