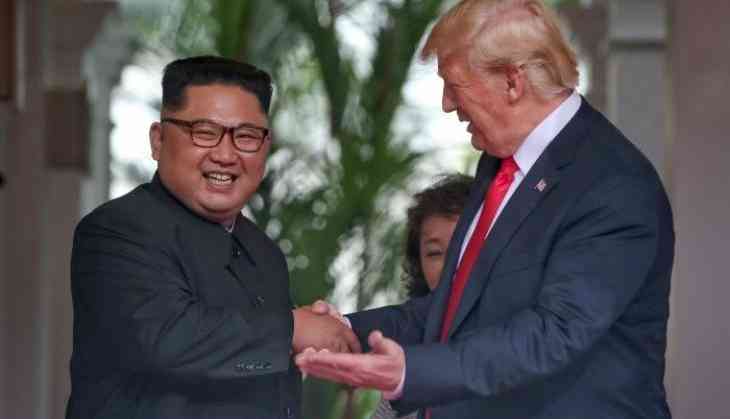 United States President Donald Trump on Friday extended the sanctions on North Korea for a year, saying Pyongyang posed an "unusual and extraordinary" threat by its nuclear arsenal.
The decision came after Trump and North Korean leader Kim Jong-un met at Singapore's Capella Hotel on Sentosa Island for a historic summit on June 12.
In the meeting, Kim committed to 'complete denuclearisation of the Korean Peninsula', while Trump pledged 'security guarantees' to the North, Yonhap News Agency reported.
In a routine notice to the US Congress, Trump wrote, "The existence and risk of proliferation of weapons-usable fissile material on the Korean Peninsula and the actions and policies of the Government of North Korea continue to pose an unusual and extraordinary threat to the national security, foreign policy, and economy of the United States."
"Therefore, in accordance with section 202(d) of the National Emergencies Act (50 U.S.C. 1622(d)), I am continuing for one year the national emergency with respect to North Korea declared in Executive Order 13466," he added.
Interestingly, this came after Trump asserted earlier that North Korea was "no longer a nuclear threat."
The US President wrote on his Twitter handle upon returning from Singapore, "Just landed -- a long trip, but everybody can now feel much safer than the day I took office. There is no longer a Nuclear Threat from North Korea."
Pyongyang is yet to react to Washington D.C's action on the extension of sanctions so far.
(ANI)