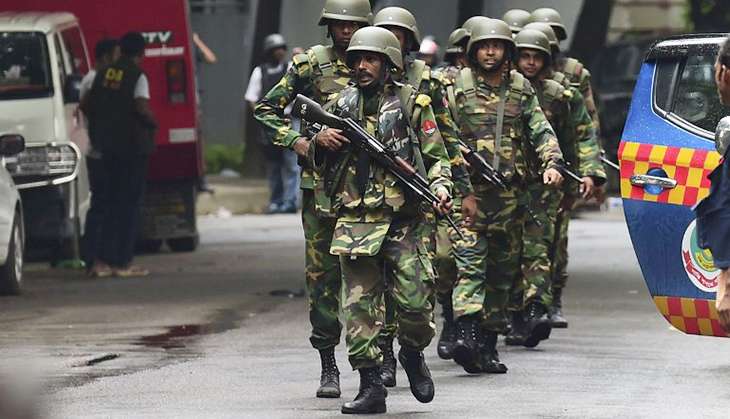 On 17 July, Bangladesh police found a house in Dhaka's West Shewrapara area which is believed to be the hideout of terrorists who carried out an attack on Holey Artisan Bakery Cafe. The attack on the eatery left 20 hostages dead.
The landlord of the house, Md Nurul Islam, has been arrested on charges of not preserving necessary documents of the tenants, who are believed to be the accomplices of the accused.
bdnews24.com quoted Deputy Police Commissioner, Masudur Rahman as saying, "The owner, Nurul Islam, has been arrested. Police have found a handmade grenade, black dresses and some other equipment from in the house."
According to a report in a daily, police had raided the house on Saturday night.
Before the raid at West Shewrapara area, police arrested the acting Pro-vice-chancellor of North South University, Professor M Gias Uddin Ahsan, and two others from Dhaka's Bashundhara residential area for sheltering the attackers. The two others held are Ahsan's nephew Alam Chowdhury and Mahbubur Rahman Tuhin, the building manager.
According to the police, a 'suspected' member of Jama'atul Mujahideen Bangladesh (JMB), had rented the flat in May.
"The man fled on the day of the Gulshan attack. It appears from the information we initially got that some of the Gulshan cafe attackers had come to this house," Detective Branch Deputy Commissioner Saiful Islam was quoted as saying.