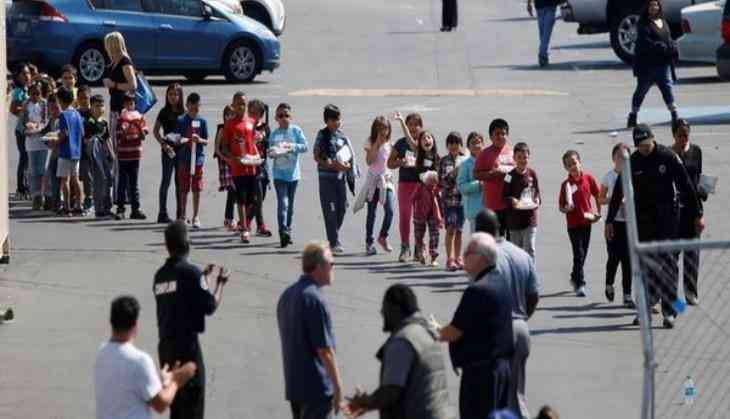 California elementary school shooting: 8-year-old student among three killed (ANI)
In a tragic development emerging from the United States, a man barged into his wife's classroom at San Bernardino, California's North Park Elementary School and shot her dead before taking his own life. One student also lost his life in the shooting.
Two students were injured in the murder-suicide and one child later succumbed to his injuries and died at the hospital, CNN reports quoting San Bernardino Police Chief Jarrod Burguan.
Burguan said the shooter, Cedric Anderson, 53, of Riverside, walked into the classroom armed with a large caliber revolver and opened fire "without saying anything," killing Karen Elaine Smith, 53, who was a teacher at the school.
Suspect in shooting identified as Cedric Anderson, age 53, resident of Riverside, CA. pic.twitter.com/H9YYQZvZud

— San Bernardino PD (@SanBernardinoPD) April 10, 2017
Victim in school shooting identified as Karen Smith, age 53, estranged wife of suspect. pic.twitter.com/IaC7RCtVhl

— San Bernardino PD (@SanBernardinoPD) April 10, 2017
The two students who were also shot in the incident were standing behind Smith. Jonathan Martinez, 8, died at Loma Linda University Medical Center in Loma Linda after being airlifted from the school and the other student, a 9-year-old boy, was listed in stable condition at the medical center, according to the hospital.
'This is a tragic incident that has befallen our city,' San Bernardino Police Lt. Michael Madden told reporters earlier.
Anderson signed in at the front office when he entered the school. He then told employees in the office he wanted to drop something off with his wife and then headed to the classroom.
'He came in, and very, very quickly upon entering the classroom started shooting,' Burguan said. Burguan said preliminary information indicates the two were recently married.
'I'm told that their marriage was relatively short. They've only been married for a few months and they've been separated for about the last month, month-and-a-half, roughly, when this incident took place,' he said. 'But there's nobody that in the investigation has come forward to say that they saw this coming.'
-ANI