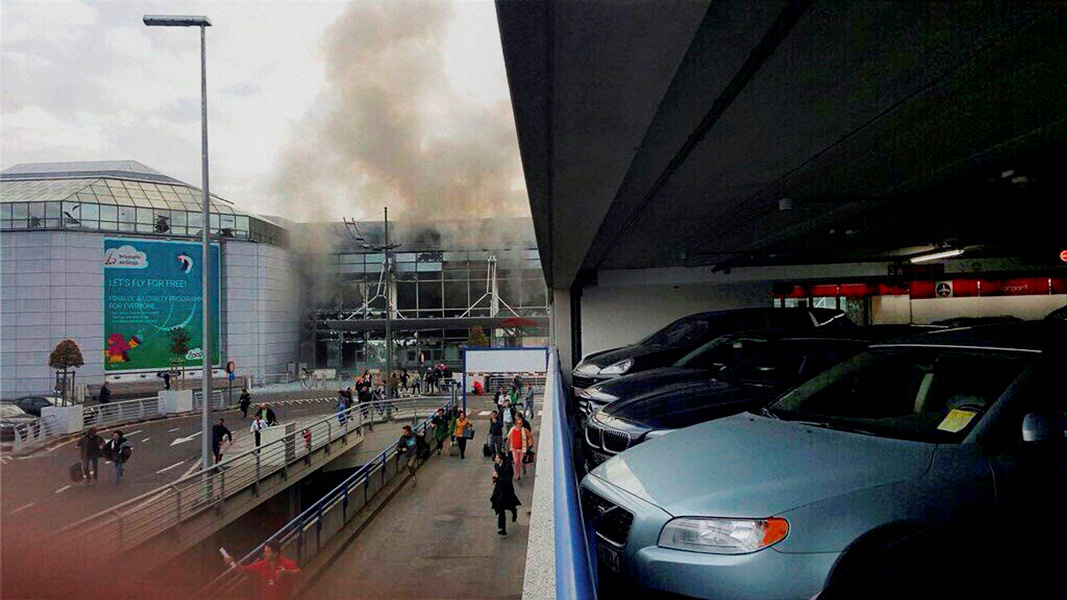 At least 34 people have been killed while 55 others were seriously injured in terrorist attacks at the Brussels international airport and a city metro station, on Tuesday, 22 March.
Investigators say they are looking for a suspect wearing a hat who was caught on CCTV camera pushing a heavy trolley at the airport with two others, believed to be the bombers.
The Islamic State, taking responsibility for the deadly attack, issued an updated communique threatening other countries involved in 'anti-IS operations'. The statement promises "dark days" for countries allied against the Islamic State, threatening that "what is coming is worse and more bitter".
Twin blasts hit the Zaventem Airport at about 07:00 GMT, leaving passengers terrified.
Another explosion struck the Maelbeek metro station an hour later, reported the Guardian.
Shots were fired and words in Arabic shouted before the blasts were heard near the American Airlines check-in desk in the departure hall, a Belgian news agency reported.
All flights have been cancelled and rail traffic towards the Belgian airport suspended post the attack.
Prime Minister of Belgium, Charles Michel, while addressing a news conference called the attacks "blind, violent, cowardly".
Condemning the attack, British Prime Minister David Cameron offered his condolences and security support to his Belgian counterpart.
He said that "we absolutely stand" with the Belgian people.
French President Francois Hollande vowed "to relentlessly fight terrorism, both internationally and internally".
"Through the Brussels attacks, it is the whole of Europe that is hit," New York Times quoted him as saying.
-With agency inputs