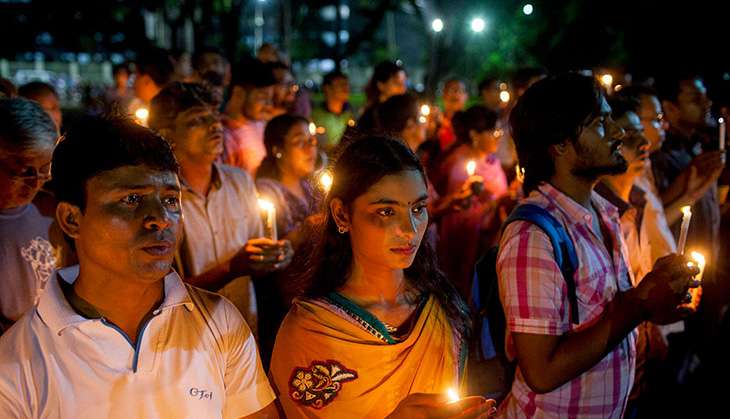 After the terrorist attack that took place in Bangladesh's Kishoreganj area during a mass Eid prayer leaving two killed and nine injured, Indian defence experts have condemned the attack as an attempt to destabilise the pro-India Sheikh Hasina government.
Defence expert PK Sehgal on Thursday said the attack on the occasion of Eid was 'expected' adding that the pro-Pakistan opposition party is attempting to destabilise the pro-India Sheikh Hasina government by carrying out such attacks.
"It is unfortunate in Bangladesh while the ruling dispensation is in favour of India and is against terrorism, the opposition entity supports terrorism and is joining hands with Pakistan to destabilise Sheikh Hasina government and to bring chaos and mayhem with a view to damage the image of Sheikh Hasina government," Sehgal told ANI.
Ranjit Rai, another expert, however, said that the attack was planned accordingly to target innocent people and expressed sympathies to the public of Bangladesh.
"It is very sad that they are targeting people, this couldn't have been done without planning," he said.
Echoing similar sentiments, Major General (Retired) SR Sinho has attributed the attacks as "homegrown" or 'lone-wolf' attacks that are augmenting terrorist activates to defame and destabilise the Hasina government.
"It is possible that these are homegrown terrorists or lone-wolves but I see as a conspiracy to destabilise the government by augmenting terrorist activities to frighten them and showing it to the world that Bangladesh is plagued with terrorism," he said.
Adding to the list of possibilities in the perpetrators of the terrorist attack, expert Qamar Agha said, "Islamic state does not have anything to do with religion. They want power. In the name of religion, they want to have power in the state and this has been their plan. They tried in Afghanistan and Iraq and Syria as well. They have a lot of money and amassed lot of weapons. There is unemployment in Bangladesh and the IS are taking advantage of that. ISIS enjoys traditional home-grown support in Bangladesh."
Four people, including two policemen, a woman and a suspected assailant, have reportedly died in the attack near Sholakia Eidgah.
Earlier this week, a terrorist attack took place at a cafe near Dhaka's diplomatic enclave claiming lives of 20 civilians.
Nine Italians, seven Japanese, one Indian, one Bangladeshi-American and two Bangladeshis were killed in the terror attack at Holey Artisan Bakery in Gulshan.
The 12-hour-long hostage crisis at the cafe popular with foreigners ended after a two-hour-long assault by armed forces' commandos killing six gunmen.
-ANI