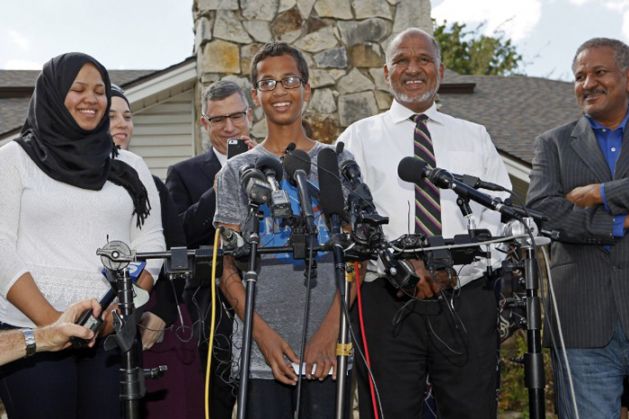 If you've been on the internet at all in the past 48 hours, you know that 14-year-old Ahmed Mohamed - an Irving, Texas resident - got arrested for making a clock and taking it to school.
Those who know Ahmed know he loves to tinker with tech stuff, always innovating with old circuits and appliances.
Hoping to impress his teacher, he put together a digital clock inside a steel box.
Except the teacher took it away, reported it to school authorities, and a few hours later Ahmed found himself handed over to the police on the suspicion of building a bomb.
No matter how much he explained, Ahmed was handcuffed and removed from his class. He was detained at a juvenile centre and five policemen interrogated him, only to come to the eventual conclusion: it's just a clock, not a bomb.
It could have ended there - a horrific, possibly life-changing incident in one young boy's life. But in the couple of days since, something else happened.
The world took note. And the world decided it was not okay. Whether it was racial profiling at work, or just a callous suspicion of a young boy, Ahmed deserved to not feel like a criminal because he'd been excited to try something new.
Barack Obama was among the first to send out a message: to Ahmed, but also to the world. He tweeted from his official handle, inviting Ahmed to bring his clock to the White House.
Cool clock, Ahmed. Want to bring it to the White House? We should inspire more kids like you to like science. It's what makes America great.

— President Obama (@POTUS) September 16, 2015
Mark Zuckerberg encouraged Ahmed to use his skills and ambition to build things
The United States Space Camp invited him to stop by and learn from their best
Creative minds are always welcome at Space Camp, and we appreciate donors who help them come. Someone has provided a scholarship for Ahmed.

— SpaceCampUSA (@SpaceCampUSA) September 16, 2015
MIT is Ahmed's dream school. A few hours after news of the arrest broke, an MIT physicist told him that's he's just the kind of student they want.
This the best part... we brought in an MIT physicist to invite Ahmed to come tour the school... #inners

— Christopher Hayes (@chrislhayes) September 17, 2015
Someone started a campaign to raise money for Ahmed's college tuition, and donations are steadily coming in
Just spoke with Ahmed's sister. Got the info needed to make Ahmed beneficiary of campaign. Thanks everyone! http://t.co/gLTdEmu6r5

— Niki Acosta (@nikiacosta) September 16, 2015
Twitter asked Ahmed to DM if he's up for an internship
Hi @IStandWithAhmed, we 💙 building things at @twitter too. Would you consider interning with us? We'd love it - DM us! #IStandWithAhmed

— Twitter (@twitter) September 16, 2015
Google thinks he's just the right person to come to this year's Science Fair
Hey Ahmed- we're saving a seat for you at this weekend's Google Science Fair...want to come? Bring your clock! #IStandwithAhmed

— Google Science Fair (@googlescifair) September 16, 2015
And if he's bored of science and wants to try music, he can always hit it up with Ne-Yo
Hey @istandwithAhmed, if you ever want to get into the world of music, let me know. #theworldisyours #IStandWithAhmed

— NE-YO (@NeYoCompound) September 17, 2015
Possibly more significant than any of this? The lesson for Ahmed that he's not alone: others have faced similar hardship and he wants to help them out.
Sometimes, internet, you take a terrible thing and you make it better.