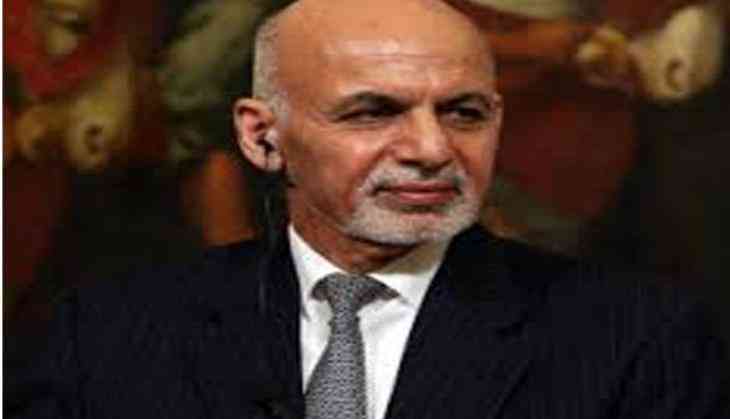 Afghanistan President Ashraf Ghani
Afghanistan on Tuesday strongly condemned the terror attack targetting a bus of the Amarnath pilgrims in Anantnag District of Jammu and Kashmir.
Condemning the terror attack, President Ghani said, "Being enemies of civilisation and humanity, terrorists don't respect any religion and law but in order to disseminate terror and hate, they target sacred locations and civilians including women and children."
"Afghanistan, which is at the front-line in the fight against terrorism, has always evinced its honesty and valor in counter-terrorism efforts, once again stressing on putting up a collective and earnest fight against terrorism through a unified strategy," a statement from the Afghan ministry said.
"The Government and people of the Islamic Republic of Afghanistan offer their condolences and sympathies to the government of Republic of India, its people and victims of this terror attack," it added.
France also condemned the attack and conveyed its condolences to the families of the victims and wished a speedy recovery to the injured.
"France assures the people and authorities of India of its solidarity in face of terrorism. During their meeting in Paris on 3rd June this year, the President of the French Republic and the Prime Minister of India, Shri Narendra Modi, had declared counter-terrorism to be a priority of our strategic partnership," a statement said.
Earlier, Bangladesh Prime Minister Sheikh Hasina on Tuesday wrote to Prime Minister Narendra Modi and condemn the dastardly Amarnath terror attack.
According to a tweet by Ministry of External Affairs (MEA) spokesperson Gopal Baglay, Prime Minister Hasina wrote to Prime Minister Modi and condemned the attack and conveyed "condolences of Govt. and people of Bangladesh."
Baglay also informed, through his tweets, that Mauritius and Nepal have also condemned the attack.
He tweeted, "Mauritius strongly condemns the attack on Indian pilgrims returning from Amarnath, says that it stands with India at its moment of grief."
"Nepal PM Sher Bahadur Deuba strongly condemns the attack on innocent pilgrims, expresses deep condolences & sympathies to GOI & Indian pple."
Sri Lanka President Maithripala Sirisena also took to Twitter to show solidarity with India.
"I condemn the brutal terrorist attack on innocent pilgrims in Amarnath. Sri Lanka stands in solidarity with India in his hour of grief."
Earlier in the day, the United States also condemned the Monday attack on the bus carrying Amarnath pilgrims in Jammu and Kashmir's Anantnag District.
U.S. Charge d'Affaires Mary Kay Loss Carlson tweeted, "We deplore the attack on #Amarnath pilgrims & condemn all acts of terrorism. Deepest condolences to the families & all those affected."
Several other allies of India including Russia, Sri Lanka and Germany also criticised the attack.
Pavel Dorokhin, Member of State Duma and Deputy Chairman of India-Russia Inter-Parliamentary Commission said in a statement, "Russia stands united against terrorism and terrorism cannot be justified. We pay condolences to the families of the victims and wish speedy recovery to the injured."
German Ambassador Dr. Martin Ney also issued a statement criticising the attacks and paid condolences to the families of the deceased and injured.
He said, "On behalf of the Government of Germany, I strongly condemn yesterday's terrorist attack in Jammu & Kashmir. Seven Amarnath Yatris lost their lives and more than a dozen were wounded. I convey our deepest condolences to the families of the victims. Germany resolutely stands by India in the fight against terrorism and extremism."
Sri Lankan Prime Minister Ranil Wickremesinghe, in a series of tweets, also criticised the terror incident.
He tweeted, "The attack on pilgrims in Amarnath Yatris is devastating. Our thoughts and prayers are with the families affected and our friends in india.html"> India. Sri Lanka condemns the attack on peaceful pilgrims - Amarnath Yatris. Thoughts & prayers are with the families and your nation @narendramodi."
Bhutan Foreign Minister Lyonpo Damcho Dorji said, "Bhutan strongly condemns the terrorist attacks on Amarnath Yatris."
Meanwhile, mortal remains of Amarnath Yatra pilgrims who lost their lives were brought to Surat, Gujarat.
Seven people lost their lives and 15 others were injured yesterday when a group of terrorists attacked a bus in Jammu and Kashmir's Anantnag.
The incident occurred at around 8.20 p.m. on Monday between Baltal and Mir Bazar. Reportedly, the bus was neither a part of a convoy nor registered with the shrine board.
The 90th and 40th battalions of the Central Reserve Police Force (CRPF) have been deployed at the spot to prevent further untoward incidents.
People all across the country are condemning the incident, with some even staging protests against Pakistan.
Prime Minister Narendra Modi and President Pranab Mukherjee have also strongly condemned the incident.
-ANI