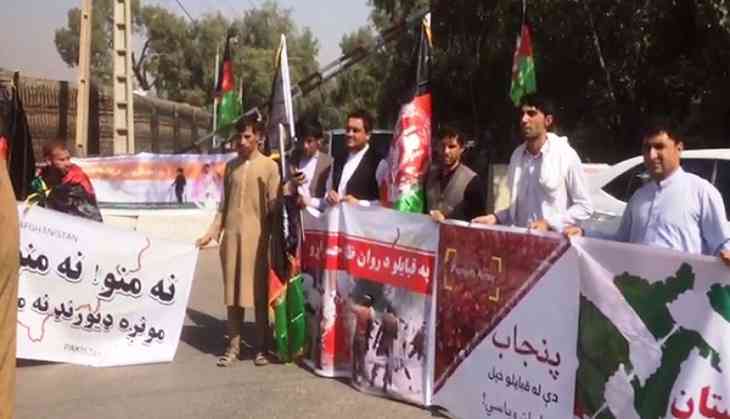 Dozens of Afghans, mostly Pashtuns, staged a protest against Pakistan in Jalalabad in Afghanistan's Nangarhar province.
The protest march started from Pashtunistan Chowk and concluded outside the Pakistan consulate in Jalalabad with the burning of the Pakistan flag.
The rally was jointly organized by Loy Afghanistan and the National Afghan Movement and was aimed at criticizing Pakistan for giving sanctuary to terrorists along the Durand Line and committing atrocities against Afghans in the border areas.
They alleged that the Pakistan Army and the police were behind the arresting and picking up of Afghans from mosques and their homes, and imprisoning them.
The protesters also demanded that Pakistan open its borders with Afghanistan to allow people on both sides of the border to renew their age-old relationships.
The 2,430-kilometer-long Durand Line is the internationally recognised border between Pakistan and Afghanistan, and was established in 1896. But it remains largely unrecognised in Afghanistan.
The escalating border dispute between the two countries has badly hurt relations between Afghanistan and Pakistan.
During the 72nd session of the United Nations General Assembly (UNGA) in New York, Afghanistan scathingly attacked Pakistan by listing a record number of instances of terrorists being given shelter in Pakistan.
Kabul accused Islamabad of providing safe havens to 20 internationally-recognised terrorist groups, and said, "Pakistan remains the main source of insecurity in the region."
-ANI