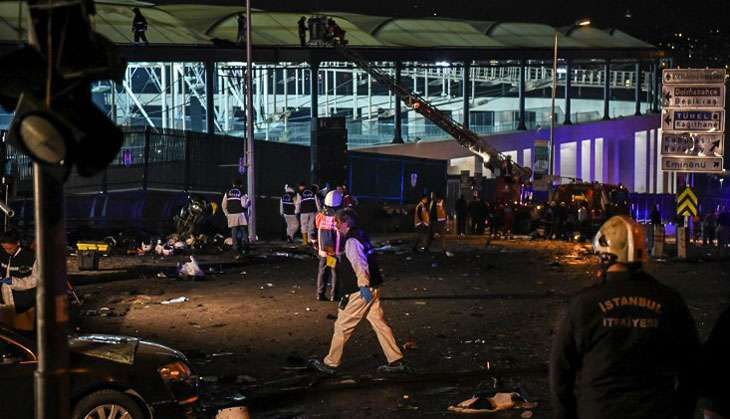 Turkey declared a day of national mourning on 11 December after twin bombings killed 38 people near a football stadium in Istanbul and said Kurdish militants appeared to have staged the attacks.
A car bomb detonated yesterday outside the home stadium of football giants Besiktas after a Super Lig match between Besiktas and Bursaspor, and less than a minute later a suicide attacker blew himself up near a group of police at a nearby park.
Prime Minister Binali Yildirim ordered flags to fly at half mast while President Recep Tayyip Erdogan postponed a planned trip to Kazakhstan, the state news agency Anadolu reported.
"The target was directly the police," Deputy Prime Minister Numan Kurtulmus told private CNN Turk.
"Experts say at least 300-400 kilogrammes of explosives had been used. There was a pit where the car detonated," he said.
Interior Minister Suleman Soylu said 30 police, seven civilians and an unidentified person died in the blasts and 155 were injured. Thirteen people have been detained over the blasts.
"The findings point to the PKK as the authors" of the attacks, Soylu said, referring to the outlawed Kurdistan Workers Party (PKK).
A forensic team today inspected the stadium and the park to collect evidence, an AFP journalist said. City workers meanwhile cleaned up the area. Later people gathered at the site of the car bombing to lay flowers, many holding Turkish flags.
"An act of terror targeted our security forces and citizens at Besiktas tonight," Erdogan said in a statement after the attacks.
Erdogan said the blasts were timed to cause maximum loss of life.
"We have witnessed once more here in Istanbul the ugly face of terror which tramples on any form of values and morals," he said.
State broadcaster TRT showed images of the wreckage of a car engulfed in flames with emergency services swarming around the scene outside the sports venue.
Other footage showed wrecked police vehicles, while witnesses said the force of the blast shattered the windows of nearby homes.
"I heard two explosions in less than one minute, followed by the sound of gunshots," one witness told AFP on condition of anonymity.
Besiktas is one of Istanbul's most popular football clubs, and its fans are known for their anti-establishment views and famously played a big role in the 2013 protests against Erdogan, who was then prime minister.
Besiktas in a statement vowed to "stand firm against the vile attackers who will never achieve their goal." The stadium is near the Ottoman-era Dolmabahce palace that houses Prime Minister Binali Yildirim's offices and about a kilometre from the busy Taksim Square, a magnet for tourists.
--PTI