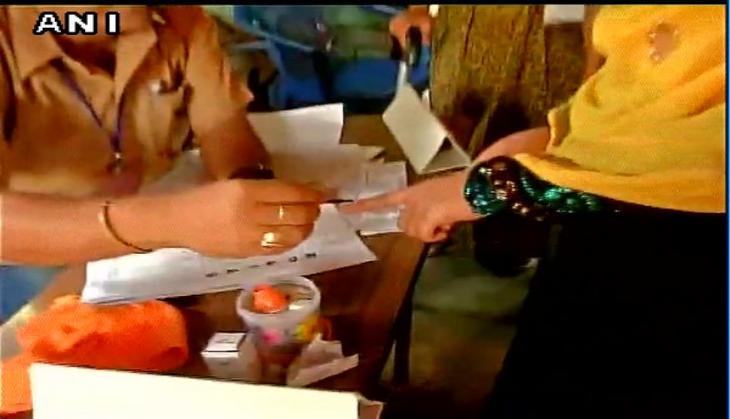 As the third phase of West Bengal Assembly elections rolled out in 62 constituencies of Burdwan, Kolkata North, Murshidabad and Nadia, on 21 April, the voter turnout stood at 79.22 percent till 5 pm.
Number of episodes of violence in various parts of West Bengal were reported during the day with one CPI(M) worker losing his life in Murshidabad.
Goons were reportedly seen brandishing pistols in the Burdwan area of West Bengal. Union Minister Babul Supriyo was also allegedly heckled by TMC workers in Kolkata when he went to cast his vote along with his mother.
Furthermore, according to media reports, a CPM worker's ear was sliced off following a clash between the workers of CPM and the TMC during voting in Burdwan's Ketugram Assembly seat.
A presiding officer on duty in a booth in Burdwan was suspended after the polling agents complained that he was trying to influence voters.
The voter turnout stood at 67.8 per cent till 3 pm, 57.21 percent still 1pm and 18.29 percent till 11pm. A turnout of 58 percent was recorded in Murshidabad, 60 percent in Nadia, 58.74 percent in Burdwan and 44 percent in Kolkata during the first few hours of voting.
A total of 418 candidates, including 70 independents and 34 women, are in the fray in this phase -- 58 candidates for seven constituencies of North Kolkata, 189 for 22 seats of Murshidabad, 108 for 17 seats of Nadia, and 83 contestants for 16 seats of Burdwan districts.
Voting is being conducted in 16,461 polling stations, of which 3,401 polling stations, including 324 in North Kolkata, have been declared sensitive.
The elections to the 294 assembly seats in West Bengal are being conducted in six voting phases, spread across seven polling days till May 5.
The counting of votes will be done on May 19.
 --With Agency Inputs
Read More: West Bengal Assembly polls: 56.08% voting recorded in third phase till 1 pm