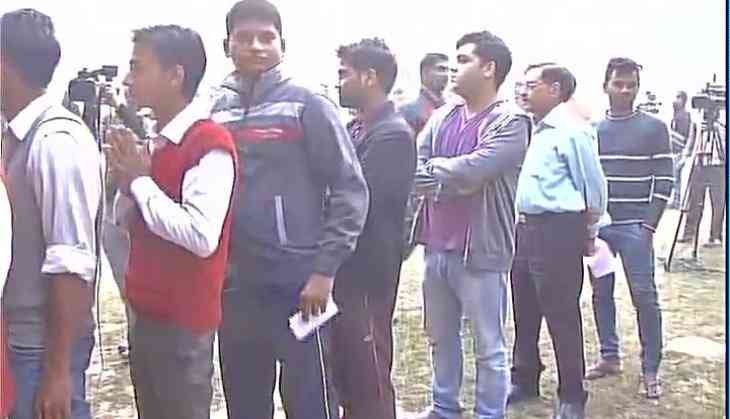 The much-vaunted 'kaam bolta hai' (work speaks) slogan of Uttar Pradesh Chief Minister Akhilesh Yadav is facing a litmus test in the battle of ballots today in the state capital, the crucible of his dream projects.
Akhilesh has used the development card to the hilt during his campaign across the state, often highlighting his work in and around Lucknow, the city of Nawabs.
Doing away with traditional Samajwadi Party politics hinged on caste equations and dependence on "M-Y" (Muslim- Yadav) factor, the 43-year-old chief minister decided to test his popularity riding on the crest of development, his new found mantra to retain power.
It is but natural for him to sell his pet projects - Lucknow Metro, Gomti riverfront and Janeshwar Misra Park - to woo the electorate.
He has also been highlighting the Agra-Lucknow Expressway, establishing state-of-the-art hospital in the capital and facilities to give employment to local youth.
Voters in nine Assembly seats, seven of which was won by the SP and another by its recent ally Congress, will give their opinion on the development projects. Their verdict will be out on March 11.
The BJP and the BSP, which have been challenging the SP chief's claims of 'kaam bolta hai' are not leaving anything to chance by taking the fight to the voters, highlighting the shortcomings in the works which they said have been carried out in haste and flagged off even without achieving full completion.
The Lucknow Metro project has become a key issue with Prime Minister Narendra Modi ridiculing it for the green signal given even before it was thrown open to public.
While Akhilesh put the ball in the Centre's court for the delay in unveiling the Metro project, BSP chief Mayawati has claimed it to be her brainchild that was hijacked by the SP government and projected as their own.
The much-hyped 302-km Agra-Lucknow expressway, aimed at reducing travel time from 6 hours to 3.30 hours between the two cities, has landing and take off facility for fighter planes in case of emergency.
It was inaugurated on the birthday of SP patriarch Mulayam Singh Yadav in November last year and also opened for public, though detractors allege that certain stretches are still under construction and proper security measures have still to be brought in the ground.
--PTI