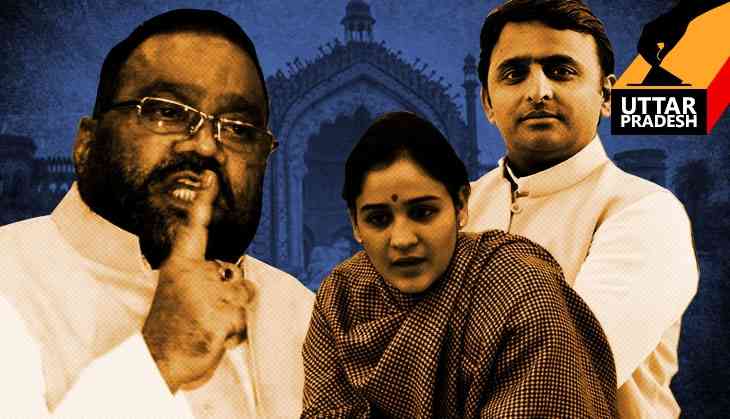 On the evening of 16 February, Uttar Pradesh Chief Minister Akhilesh Yadav went seeking votes for his sister-in-law, Aparna Yadav, in the Lucknow Cantonment constituency. In doing so, he scotched speculation about any rift in the family, even though he has avoided visiting Jaswantnagar, his uncle Shivpal Singh Yadav's constituency in Etawah.
Akhilesh's visit coincided with the full trial run of the Lucknow Metro from Alambagh to Charbagh, giving him an opportunity to compare his development to Prime Minister Narendra Modi's "hollow promises".
During campaigning for this phase, Akhilesh has traded barbs with Modi over the latter's "kaarnama bolta hai (misdeeds speak)" jibe, with his "kaam bolta hai (work speaks)" retort.
Lucknow and Etawah, along with 10 other districts comprising 69 Assembly seats, go to the polls on 19 February, the third phase of Uttar Pradesh elections. Campaigning in these constituencies ended on 17 February.
The 12 districts also include Kannauj, the Lok Sabha constituency of the Chief Minister's wife Dimple Yadav and another pocket-borough of the Yadav family. Farrukhabad, Mainpuri, Etawah, Auraiya, Kanpur Dehat, Kanpur, Unnao, Barabanki and Sitapur are the other districts, many of them Samajwadi Party strongholds.
Akhilesh was accompanied by Congress's Ghulam Nabi Azad, and he asked voters to give each and every vote to Aparna to help her win.
All eyes on Lucknow
There are over 2.41 crore voters in this phase, of which about 1.10 crore are women. Not surprisingly, then, there are 105 female contestants from various parties.
Two of them are Aparna and Rita Bahuguna Joshi, who are pitted against each other in Lucknow Cantonment. Joshi is a former Uttar Pradesh Congress Committee president and sitting MLA, who has now switched sides to the Bharatiya Janata Party.
From 1991 to 2007, the BJP held the seat. The trend was broken by Joshi in 2012 when she defeated Suresh Tiwari, a three-time MLA. This time, the BJP decided to field Joshi from here, and left Tiwari sulking.
The BJP faces the tough task of winning this seat. In addition, it is hoping to retain the Lucknow (East) seat held by Ashutosh Tandon 'Gopalji', son of veteran leader Lalji Tandon, while also trying to win other seats, since Lucknow happens to be the Parliamentary constituency of Union Home Minister Rajnath Singh.
OBCs will decide this phase
The third phase will be a challenge for the BJP's gambit of fielding over 100 candidates belonging to the Other Backward Classes (OBCs). The Samajwadi Party had swept the region in 2012, winning 55 of the 69 seats. Of the remaining seats, six were won by the Bahujan Samaj Party, five by the BJP and two went to the Congress. An independent won the remaining seat.
This time, Mayawati's BSP has to contend with two very aggressive opponents, and has been found defending her vote bank from being nibbled away. She was dealt a major blow by the BJP which tempted away her senior leader Swami Prasad Maurya, to strengthen its OBC support base.
Unlike the first two phases, where Muslims and Jats called the shots, this phase will see mainly the OBCs decide the fate of 826 candidates. Brahmins, who are holding their cards close to their chest, will also influence the poll outcome in districts like Unnao, Kannauj and Kanpur.
Indirectly helping the BJP's cause will be the SP leaders who turned rebels after being denied tickets, although the saffron party is also faced with the same problem. In Barabanki, for example, Beni Prasad Verma's Kurmi votes may be cast in favour of the BJP and not the SP, as his son Rakesh Verma was denied a ticket by Akhilesh.
The candidates whose fate will be sealed in the electronic voting machines on 19 February include SP MP Naresh Agarwal's son Nitin Agarwal, Congress leader PL Punia's son Tanuj Punia, Akhilesh Yadav's close friend Anurag Bhadauriya, and the CM's cousin Anurag Yadav.