Jhinuk Sen
| Updated on: 14 February 2017, 7:15 IST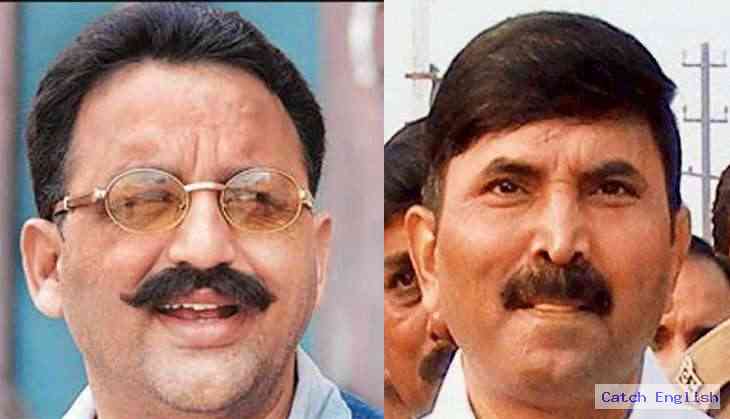 Not mafia, call him 'Honorable Sir', please. This was the tone and temper of Brijesh Singh's reply to a journalist who questioned him about his criminal past after his victory last year in the Uttar Pradesh Vidhan Parishad elections.
The stories of Mukhtar Ansari and Brijesh Singh's bloody gang wars continue to be the subject of discussion in the lanes and by-lanes of eastern UP. Neither ever misses an opportunity to wash their hands off their criminal conduct and call themselves completely clean and innocent.
Ansari calls his history sheet a bundle of conspiracies hatched by the Opposition. But those familiar with the region know that hardly anyone has the courage to sign a contract, big or small, including railway contracts worth crores, other than Ansari and Singh.
Singh fought the 2012 Assembly elections as a Bharatiya Janata Party candidate from jail representing Sayeedraja (Chandauli) and he faced defeat.
Singh had won with a thundering victory last year in the MLC elections while Mukhtar Ansari has continued to win from Mau, election after election, since 1996.
Both leaders, who have turned a new 'honourable' leaf, are currently in jail. One is a member of the Vidhan Sabha, while the other is in the Vidhan Parishad.
But, what is the story of these two coming face to face in bloody gang wars?
Brijesh Singh's story
Brijesh Singh alias Arun Kumar Singh was born in Varanasi. His father Ravindra Singh figured among the elites in the region and exercised considerable political power and influence. Brijesh did his Bsc from UP College in the city and was counted among the brighter students.
Then came a point in young Brijesh's life that turned everything around. During this time there came such a turn in his life whose beginning and end reached just one place - death. On 27 August, 1984, Ravindra Singh was killed in Daurhara village of Banaras. His political opponents Harihar Singh and Panchu Singh were allegedly involved in the murder.
On 27 May 1985, Brijesh killed Harihar in broad daylight. And with that Brijesh's history sheet took off.
After Harihar's murder, Brijesh waited for a year to kill the others involved in his father's death. Then on 9 April, 1986, in the village of Sikroura of Banaras, he shot down five more.
The face-off
When Brijesh was imprisoned on murder charges, he met Tribhuvan Singh. Tribhuvan was from Mudiyar village in Ghazipur. The two became friends and set up their gang, which quickly established a reputation and began to dominate. They wrested all contracts from coal to liquor.
It was while they were in the business of bagging a contract for coal that Brijesh came face to face with mafia-don Ansari, which eventually developed into a bloody gang war.
During this time, Tribhuvan's brother Rajendra was the head constable in Banaras police lines. In October 1988, Sadhu Singh killed Rajendra. Ansari and Bhim Singh of Ghazpiur were accused of Rajendra's murder apart from Sadhu.
In retaliation, Brijesh and Tribhuvan, in absolute movie style disguised themselves and cops and shot down Sadhu Singh was was being treated in a hospital.
This was also the period when Brijesh Singh became even more infamous when he charged into Mumabi's JJ Hospital and shot sharp-shooter Haldhankar from Arun Gavli's gang along with four policemen.
Power play
While Brijesh was notching up his kill-list, Ansari was sharpening his political clout.
Tussling over railway and coal contracts, several people from both Brijesh and Mukhtar's gang lost their lives - that was an inadequate point of competition. However, Ansari's influence and reach in political circles made Brijesh's gang look weaker in comparison.
Those looking after the Brijesh's businesses came under the police radar along with a few vital names from Ansari's gang. Ajay, who was known to be Brijesh's right-hand man, was attacked and Ansari was blamed for it.
His clout forced Brijesh was forced to go underground, but he didn't sit idle. Brijesh expanded his business to Bengal, Mumbai, Bihar and Odisha.
At the same time, the gang of Sadhu Singh and Maknu Singh, the accused killer of Tribhuvan Singh's father, was emerging rapidly. After Brijesh killed Sadhu, Ansari came to hold the reins of the gang.
The murder of Krishnanand Rai
While gang control was shifting hands, BJP MLA Krishnanand Rai began to get close to Brijesh Singh's gang.
Once, while returning from Lucknow, Ansari was attacked. Many of his associates were killed, though he managed a narrow escape.
If one is to believe those who have an eye on Purvanchal's crime world, the shots were fired by Brijesh from his rifle. In the blind exchange of gun fire Brijesh was also hurt, but like Ansari, he too managed to escape.
After this attack, Ansari made up his mind to remove Rai from his way. On 29 November, 2005, bullets rained down on his convoy. Those firing were the most notorious criminals of eastern UP - Prem Prakash alias Munna Bjrangi and Sanjeev Maheshwari alias Jiiva. Rai was killed in this attack.
After this sensational murder, Ansari was arrested. But that did not stop his business from carrying on without the least bit of hindrance. Soon, Brijesh was arrested in Bhubaneshwar in 2008. With both the kingpins behind bars, UP was hoping for some breathing space.
But the quiet did not last long. Come July 2013, the region was in a tumult again. This time it was the death of Brijesh's cousin Satish Singh. Satish was the latest victim of the ongoing gang war.
While Satish, Brijesh's uncle's son, was sipping tea at a stall in Varanasi's Chobepur, four motor cyclists opened fire, firing indiscriminately. Satish fell to the bullets.
A secret pact
After Satish's murder there were ample speculations that the age-old gang war would flare up once again. But sources believed that a secret pact had been reached between the two gangs.
The belief in this 'secret pact' began to grow stronger after one of the prime witnesses in Rai's murder, Ramkrit Singh, changed his statement. Why Ramkrit did so has been a matter of ample discussion.
Ramkrit Singh is extremely close to Brijesh Singh, Mukhtar's sworn enemy. They have a business of crores.
Naturally, Ramkrit and Brijesh will not be affected by the rest, the likes of Munna Bajrangi, who were directly involved in the murder of Rai, including Ansari.
Ansari and Brijesh need to stay out of each other's ways. They both want nothing more to do with courts and cases and are hoping for acquittals.
While Brijesh has been absolved in many cases, his involvement in the attack on Ansari is what is keeping him in jail. Witnesses are also not likely to break down in this case.
As for Ansari, the biggest hurdle between him and walking free is the case of Krishnanand Rai's murder.
Edited by Jhinuk Sen