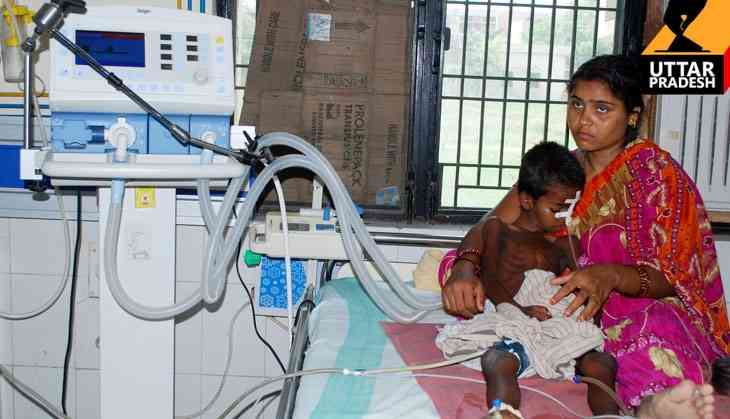 Manbela, a small village that lies five kilometres from Gorakhpur's Baba Raghav Das Medical College, is like most other villages in Uttar Pradesh's hinterland but for its fertiliser factory - which gives it a shade more of an urban character.
In January 2014, Narendra Modi, then the Prime Ministerial candidate of the BJP, had made a remark at a rally there, one which is often repeated by his supporters and those in the opposition, alike.
"For UP to become as developed as Gujarat, you need a 56-inch chest," Modi had said in the rally.
Promises made
For most, including the locals, it has been this statement that lives on in their memories. But Modi told the people one more thing during that rally – that no child would be allowed to die an untimely death.
This was Modi's way of hinting at the dreaded Japanese Encephalitis, something which has become almost like an epidemic in this part of the country.
It's been almost three years since Modi took over as the Prime Minister, and five years since Akhilesh Yadav has the led Samajwadi Party government in the state, but encephalitis deaths and disability continue to be routine.
In the face of such little help, it's almost as though the region has accepted the ongoing tragedy as fate.
The figures from Baba Raghav Das Medical College alone in 2016 are terrifying: 514 people died - a 15% increase from the last year's toll - while a total of 1,700 people were diagnosed with the disease and admitted to the hospital.
These figures do not include the numbers from district government hospitals and those from the more than 200 private clinics spread across the seven districts affected by encephalitis.
Manbela's tragedies
Manbela, meanwhile, is a village of ironies.
Every second family has a story of either a relative succumbing to the disease or a child who has been permanently disabled.
Lalti Devi, from the village has a 12-year-old daughter who is mentally disabled after the dreaded virus struck her.
Lalti Devi expressed her helplessness. "My daughter is growing up and the treatment is becoming difficult. People come with their assurances, but I haven't got a single penny to this day," she says.
Has the government helped in any way? "Nothing till now," she says. "All the expenses of the treatment have been borne by us."
Almost every house in the village has a similar tragedy to contend with.
Sixty-year-old Jashoda narrated how she lost two children to this disease. While she got a compensation of Rs 50,000 for the death of one child, she was denied anything when the second child in the family succumbed simply because she didn't have the papers to support her compensation claims.
A routine part of life
Year after year, the same story repeats in this region. Lives continue to be lost, but and the deaths have become merely a number. This is despite the fact that 500-600 children lose their lives to encephalitis.
The year Japanese Encephalitis struck Gorakhpur for the first time was 1977. This strain of the virus took a huge toll on the children in this region during the first few years, but soon another water-borne strain of encephalitis took over.
Dr RN Singh is an encyclopedia on encephalitis, which most locals refer to as 'Dimaghi Bukhar' (brain fever). He has been almost single-handedly working on getting this region out of this cycle of deaths.
"Japanese Encephalitis has been largely tackled by vaccination. Moreover, it has a four-year cycle, before it strikes again. Almost 94% of the patients suffer from water-borne encephalitis, for which there is no vaccine or medicine. For now, it can only be controlled through awareness, precautions and maintaining hygiene," he says.
Long-term effects
The most dangerous thing about encephalitis, besides its high mortality rate, is that it permanently damages the human body. Mental disability or other disabilities are common.
A viral disease, the initial symptoms include fever and stiffness in the body. Once it takes a serious turn, it leads to coma or partial paralysis.
Water-borne encephalitis is mostly spreads in habitations, which are dirty, and have pools of stagnating water or in fields of paddy which, too, needs a considerable amount of irrigation. The districts of Kushinagar, Maharajganj, Gorakhpur, Siddharthnagar, Deoria, Basti are the worst affected.
Despite the fact that almost 25 to 30% of those who contract the disease end up dead, the disease is yet to become a cause of alarm amongst the political class.
The challenges
Considering the seriousness of the situation, Baba Raghav Das Medical College has a designated ward for encephalitis patients.
Ward number 12 is brimming with patients even though February is usually not the time when the disease is at its most brutal - June and July is when the virus has its maximum impact.
But Ward 12 has had a steady stream of pateints. Young children lie motionless on the many beds, even as their family members wait in the gallery outside, squatting on the floor, waiting for a miracle.
"Netas come and give firmaans. Put more beds, increase the capacity of the medical college while the number of doctors remains the same. Netas get commission on the increased number of beds, that is why they only speak of that option," a junior resident Catch spoke to says.
"How will this limited number of doctors, nurses and other staff look after such a huge number of patients? The doctors are on the verge of losing their morale," the doctor asks angrily.
As his temper cools, he opens up more but requests anonymity. "Whatever I am telling you is no secret. If the medical college had enough facilities why would so many people lose their life every year," he asks. "At this time of the year 12 to 15 patients come every day but in June and July when the summer is at its peak, this figure goes up to 50-60 patients a day," the doctor continues.
According to him, encephalitis is such a big problem in the region because of "poverty and illiteracy."
"Most people in this region do not understand the importance of hygiene. Poor people do not even have the means to do it," the doctor says. "This is why most of the affected people come from backward sections - Dalits, and other backward communities."
Not election fodder
Considering how dire the situation is, one would think encephalitis would be at the tip of everyone's tongues during election season.
But the lack of dialogue about it is disappointing, particularly for Doctor Singh, who fights lone battle against the disease without much needed support. Even so, his zeal to save the poor from the clutches of this disease remains intact.
Merely getting an AIIMS in the region will not solve the issue, he says. "It is a welcome step, but AIIMS will not able to curb the spread of the disease. Building up the capacity of the locals is the only way we can fight this. We have to get the facilities to the houses and Mohallas. While there is no cure for this disease one can at least ensure that it can be prevented," he says.
"Once this virus strikes, it leaves permanent damage. What would an AIIMS do then? The Centre or the state government are not serious," Singh feels.
To ensure that this message reaches the masses, Dr Singh has come out with a manifesto on the issue. This manifesto, which has been distributed in the various villages, asks the locals to read it and give it those politicians who come asking for votes. The manifesto broadly has six points and demands clean drinking water in every village and provision to ensure that water is not allowed to stagnate in the villages, where this virus usually breeds.
Only in 2016, 514 infants lost their life to this disease in Baba Raghav Das Medical College alone. Yet, no political party has felt the need to even mention a line on it in their election manifesto or vision document.
It is also an irony how despite so many deaths and severe resource crunch, Yogi Adityanath, the local MP, does not forget to speak of 'Shamshan-Qabristan' in his speeches, and constantly reminds people how he changed the name of the Urdu Bazar in the city to Hindi Bazar and Ali Bazar to Arya Nagar.
When the local representative has such misplaced priorities, it is no surprise that people like Jashoda have no option but to keep quiet, and to take the death of her 13-year-old daughter as a cruel turn of fate.
"Who will listen to us? We still live in our mud house. Nobody came to us when the daughter died. What do we demand? Netas only come every now and then," she says.
Edited by Aleesha Matharu