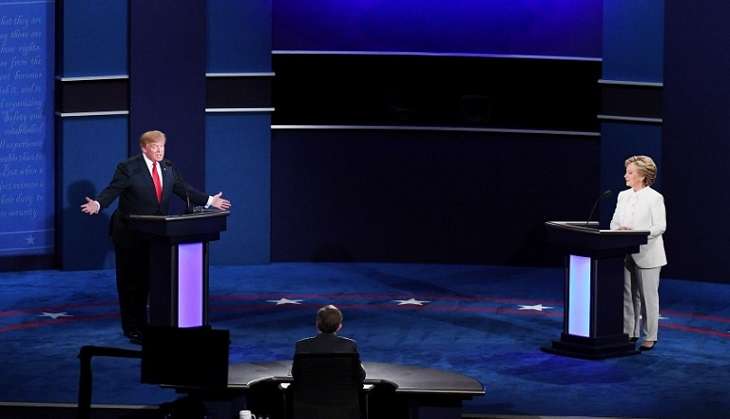 US Presidential hopeful Donald Trump tore into his Republican counterpart Hillary Clinton for the third time on the final presidential debate on 19 October, as he tried to revitalise his dying political campaign.
During the 90-minutes-debate stage, Trump tried to shake off the allegations of sexual misconduct that have been levelled against him. The Republican candidate tried to woo voters by talking about immigrants, terrorism along with other issues.
Also Read - Round 1 of He said, She said: Hillary Clinton's best moments at the 3rd US Presidential debate
Here are some of his quotes from the debate:
The Supreme Court is what it's all about. It's just so imperative that we have the right justice.
Something happened recently where Justice Ginsburg made some very inappropriate statements toward me and toward a tremendous number of people, many, many millions of people that I represent, and she was forced to apologise and apologise she did. But these were statements that should never ever have been made.
I think it's terrible if you go with what Hillary is saying in the ninth month you can take the baby and rip the baby out of the womb of the mother just prior to the birth of the baby.
We are going to have a massive, massive tax increase under Hillary Clinton.
I'm a big fan of NATO, but they need to pay up.
One of my first acts will be to get all of the drug lords, we have some bad, bad people in this country this have to go out. We'll get them out, secure the bothered and once the border is secured at a later date we'll make a determination as to the rest. But we have some bad hombres here and we're going to get them out.
Our jobs are being sucked out of our economy. The end of last week, they came out with an anemic jobs report. A terrible jobs report. In fact I said, is that the last jobs report before the election? Because if it is, I should win easily, it was so bad. The report was so bad.
The one thing you have over me is experience. But it's bad experience. The problem is you talk, but you don't get anything done.
If you become president, this country is going to be in some mess.
Nobody has more respect for women than me. Nobody.
It's (Clinton Foundation) a criminal enterprise. Saudi Arabia giving $25 million. Qatar, all of these companies. You talk about women and women's rights. So these are people that push gays off buildings. These are people that kill women and treat women horribly. And yet you take their money. So I'd like to ask you right now why don't you give back the money that you have taken from certain countries that treat certain groups of people so horribly? Why don't you give back the money?
It's so ridiculous what [she just said]. She will defeat ISIS? We should have never let ISIS happened in the first place. Right now, they're in 32 countries.
We will create an economic machine the likes of which we haven't seen in many decades. And people, Chris, will go back to work and they're going to make a lot of money. We'll have companies that will grow and expand and start from new.
When asked about accepting the poll result, Trump said, "What I'm saying is I'll tell you at the time. I'll keep you in suspense, okay?" We can not take four more years of Barack Obama and that's what you get when you get her," he said at the end of the debate.