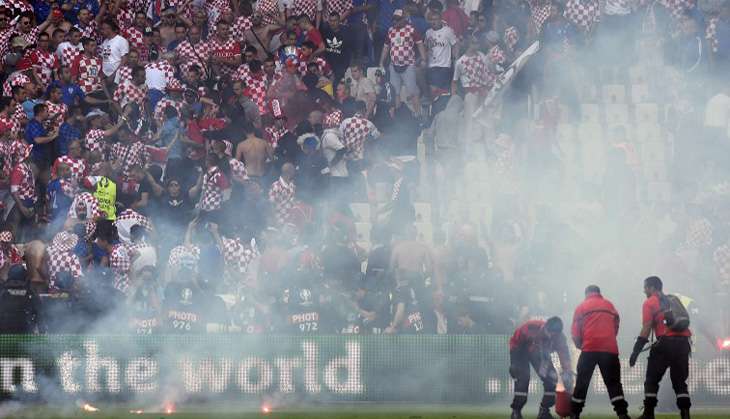 The UEFA governing body is likely to take action against Croatia after fans threw flares on the Allianz Riviera pitch in the final minutes of the game. The game ended at a 2-2 draw with the Czech Republic. Croatian mid-fielder Ivan Rakitic admitted that he is worried that the national team might be barred from the tournament after the crowd displayed disturbing behavior during the match, goal.com reported.
Referee Mark Clattenburg was forced to delay the game after fans started throwing flares on the pitch.
After the game resumed, Tomas Necid converted a penalty to deny Croatia victory, but the Barcelona midfielder star fears that the result might be irrelevant if UEFA decides otherwise, goal.com reported.
Goal.com quoted Rakitic telling HTV, "We have to see if we will play against Spain, maybe they will send us home after this. There are a lot more fans that love the national team and they will not be able to see Croatia play. It is hard to say, but we feel more comfortable playing away... we were lucky that the match went on, the referee wanted to end it immediately."
Crotia now are on second spot of the Group D with 4 points, while Spain tops the table with 6 points.