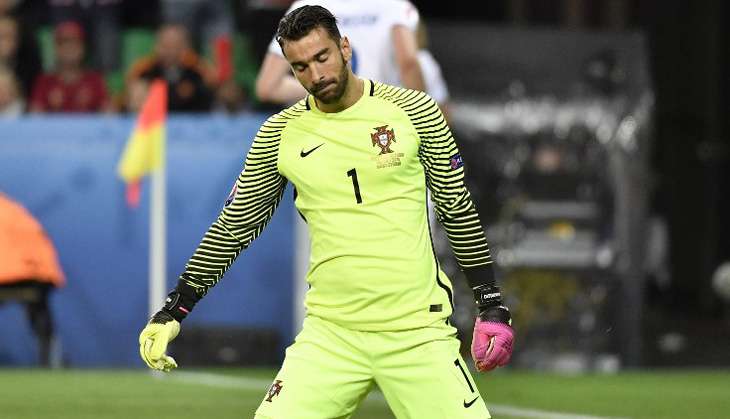 Portugal goalkeeper Rui Patricio says that despite drawing their opening match 1-1 against the Iceland minnows, the confidence of the team has not wavered and they stand tall and strong, goal.com reported.
Fernando Santos' men, led by Nani, in Saint-Etienne, appeared firm and in control of the match until Birkir Bjarnason's goal leveled the goal and the match ended in a draw.
Portugal will next take on Austria at Parc des Princes on 18 June and Sporting Lisbon's Rui Patricio remains positive over his team's prospects.
Goal.com quoted Patricio as saying, "Our confidence is always on top because we've managed to take the team this far and we know the quality we can put on to the pitch. The Iceland match is not the result we wanted but we depend only on ourselves to reach our goals. The first goal is to pass the group stage. Our confidence has not been hurt. We know the quality of our game. We are going to do everything to win."
He further added, "We felt a lot of support and we feel very thankful for that support. People have been amazing, both here in France and also in Portugal. People are commenting on the matches and we feel all the stronger for that.
"There is great pride in representing our country. No one has to congratulate me on stopping balls, everyone on the pitch tries to do their best. Whoever is playing is doing their best and who is on the bench is trying to propel us forward."