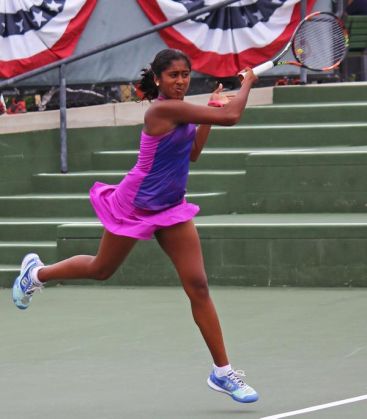 Natasha Subhash, a 13 year-old Indian-American based in Fairfax, Virginia, is set to feature in the junior girls' singles category of the US Open, after receiving a wild card for the event. Subhash, who is USA's top-ranked player in the U-14 and U-16 age groups, is also likely to be given a wild card entry into the doubles category.
Daughter of Subhash Kongassery and Sulekha Subhash, a Kerala-born couple, Natasha Subhash will now become the youngest Indian-American athlete to participate in the junior girls' section at a Grand Slam event. She will begin her qualifying campaign from 4 September, when the girls' singles and doubles kick off at New York's Flushing Meadows.
Speaking to The American Bazaar, Subhash said she was excited to take part in the event, and wanted to do her best. Her father, Subhash Kongassery, meanwhile, tried to play down the expectations on his daughter ahead of the US Open. "I don't want Natasha to be overburdened by expectations," he said.