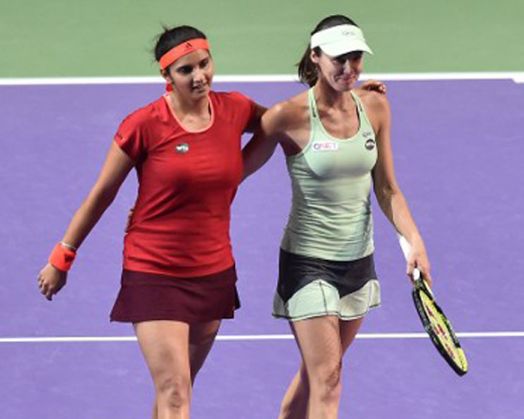 Indian tennis star Sania Mirza and Swiss ace Martina Hingis continued their dream unbeaten run, setting a record for 29 successive victories - the most since 1994 - as they won their semifinal WTA Sydney International match against Yaroslava Shvedova and Raluca Olaru on 14 January.
The Indo-Swiss pair bounced back brilliantly from a set down to claim a 4-6, 6-3, 10-8 triumph over the Russian-Romanian pair.
Earlier in the quarterfinals, Mirza and Hingis leveled the second-best record of most consecutive matches won set by Puerto Rican Gigi Fernandez and Belarus' Natasha Zvereva in 1994.
Mirza and Hingis have bagged ten women's doubles titles, including two Grand Slam titles at Wimbledon and the US Open, since joining forces in March in 2015.