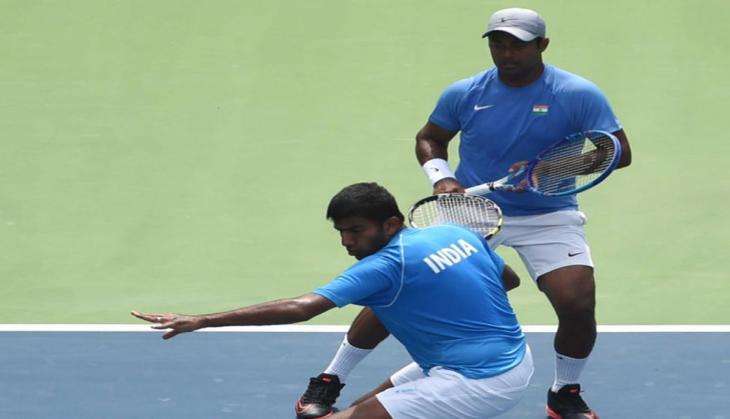 Leander Paes is not exactly his close friend by any stretch of imagination but Rohan Bopanna insists that they have a "great on-court chemistry", which enabled them to make a short work of Koreans Hong Chung and Seong Chan Hong, in Chandigarh on 16 July.
Bopanna and Paes overwhelmed the Korean pair of Hong Chung and Seong Chan Hong 6-3 6-4 6-4 in the doubles encounter to seal the tie for India.
"Chemistry was great. If it wasn't good, we could not have got such convincing win. We did not push much and just made sure that we come out strong," Bopanna said at the post-match media conference.
Veteran Paes, however did not take any questions on Olympics saying they should not be asked about the Games always.
"We have won in three sets. We are playing well. It has been a great season for us. We are sharp. Even if the competition was tough, we could have raised the level of our game," the 43-year-old winner of 18 Grand Slam titles, said.
Asked about the easy win, Paes said even if they had better rivals, they were well-equipped to shift gears.
"The left-right combination is always tricky. The lefty (Chung) was very crafty. He got some good angles. The righty (Hong) was a bit slow. He played a tough match yesterday. We had more gears to go up (if required)," he said.
When Bopanna was asked how difficult is to keep concentrating during matches when opponents are not strong, he replied,"We have been doing this in all our careers. We were comfortable."
Paes was all praise for Ramkumar Ramanathan and Saketh Myneni, who overcame tough conditions to give India a 2-0 lead on Friday.
"Ram came out and handled the pressure well. They did an excellent job under the conditions. The court was damp, soggy. It became a dog-fight, it was about fitness and mind. Lim is an Army man and we knew he's not going to stop until he falls down and that is exactly what happened.
"Overall, beating Korea 3-0 is never easy. They are a formidable force in Asia," he said.
Left-handed Chung said they always knew that the job at hand was very tough.
"Bopanna and Paes are great players. They are much experienced. It was a good experience playing against them today. It was better if we had come with the better players but under the conditions we played out best we could have. We are happy."
Hong, who suffered cramps yesterday while playing against Ramkumar, said the recovery was tough before playing the doubles as well.
"It was hard but people from India helped a lot in quick recovery," said Hong. Chung said he was not sure how they would have fared if the surface was different.
-PTI