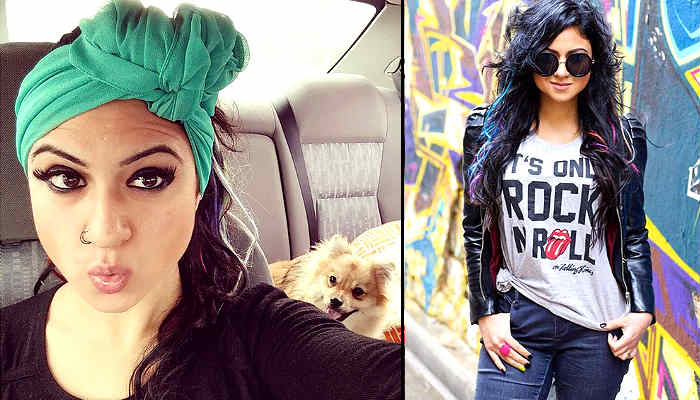 Priya Malik, the latest wild card entry of Bigg Boss Nau Double Trouble, will enter the house tonight.
Priya, who claims to be "wilder" than the other wild card entries, was a finalist on the 11th season of Big Brother Australia.
No points for guessing why expectations are riding high on this contestant.
It seems like the makers of the show have finally decided to bring in a contestant who is a celebrity in her own right - instead of choosing contestants simply on the basis of their connections with the contestants already in the house.
A photo posted by Priya Malik (@priyasometimes) on Oct 5, 2015 at 3:35am PDT
Priya is the second wild card entry this week, after designer Kawaljit Singh. While you must have already formed your opinions about the flamboyant designer, here's what you need to know about the show's newest female contestant:
Priya Malik was born in Dehradun. She perused a degree in English Honours at Delhi's Sri Venkateswara College before moving to Australia in 2008 to study at the University of South Australia. The 28-year-old made into the shortlist of the 11th season of Big Brother Australia through a new format which allowed audiences to nominate their friends to participate in the show.
A photo posted by Priya Malik (@priyasometimes) on Nov 13, 2015 at 9:47pm PST
A photo posted by Priya Malik (@priyasometimes) on Nov 20, 2015 at 11:17pm PST
Also Read: Bigg Boss Nau Double Trouble: Aman Verma bids adieu to the show
The feisty Priya Malik is both straightforward and in your face. She faced a wave of racism on the Australian version of the show but came out of it all standing tall. It appears that nothing can stop this one-woman army. And if it wasn't evident enough from her short introduction to the audiences, Priya does not seem to care about what the other contestants think of her.
Be it her dressing sense or her stance on issues, Priya Malik believes in standing out. She is a strong personality and refuses to ape or befriend people for her benefit. During her stint in Big Brother Australia, she was seen as a contestant who employed a lot of cunning to play the game. Her efforts paid off. She stuck around to the very end and was the fourth-last contestant to leave the house.
A photo posted by Priya Malik (@priyasometimes) on Sep 16, 2015 at 5:08am PDT
Priya Malik's fashion sense is uniquely her own. Whether she's attending a formal do or just hanging out with friends, she is always put together. She carries off a number of looks with absolute panache and seems to like to experiment with her style. How many other celebrities can rock black lips and a nose ring as well as she does?
Also Read: Why don't you like Bigg Boss? The show is much more than just controversy
Priya likes to read books and has also penned a number of poems. She is popular on the Australian social circuit. If reports are to be believed, she is also an aspiring comedienne. The latest Bigg Boss entrant is a self-proclaimed feminist.
During her interaction with Salman Khan on Sunday, Priya revealed that she is a teacher by profession. And if you missed that tiny interaction between the two, let us tell you that the lady seems to be more dabangg than Salman himself. Unlike most female contestants, who try to flatter and flirt with Salman, Priya dismissed the host's playful banter with her comment: "I am married, Salman (to her long-time boyfriend Bhushan Malik)". Ouch.
A photo posted by Priya Malik (@priyasometimes) on Aug 9, 2015 at 3:57am PDT