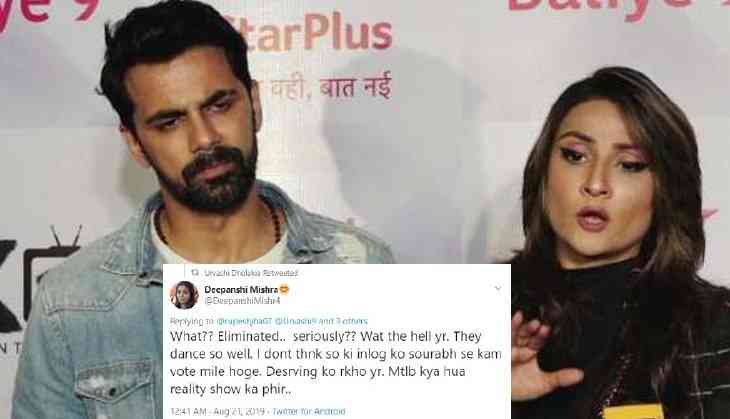 Urvashi Dholakia-Anuj Sachdeva
The show which is yet to go on-air this weekend is creating a lot of buzz and all thanks to Urvashi Dholakia-Anuj Sachdeva's shocking elimination which has left all the UrUj fans baffled. Original Komolika of Star Plus is quite upset over her elimination but more than her it's her fans that are angry with the show's format.
Urvashi-Anuj won the millions heart with their versatile performances on the show, however still they remained in the bottom two consecutively for three weeks and finally, in the fourth week, they have been eliminated. Recently, Urvashi lashed out at the show's format and said that the show is all about drama and not about dance.
After Urvashi cleared the air of her elimination in her interview with ETimes, fans came out in support and called the show biased and fake and said that they are all doing this for TRP and are not looking for a dance. Netizens took to social media to blast at the makers of the show; here have a look at what fans have to say:
Also Read: Nach Baliye 9: Urvashi Dholakia lashes out at show format after getting eliminated
😳😳.. What?!! When?!!. Am watching nach in nz and last episode bhavek were eliminated. #Uruj are one of the finest couples on that stage. If true, nach u fail me once again. Nach8 was won by one of the most undeserving couples. Now i m certain this year wont be any different.

— Laxmi Pai (@LaxiP76) August 21, 2019
What?? Eliminated.. seriously?? Wat the hell yr. They dance so well. I dont thnk so ki inlog ko sourabh se kam vote mile hoge. Desrving ko rkho yr. Mtlb kya hua reality show ka phir..

— Deepanshi Mishra😊 (@DeepanshiMishr4) August 20, 2019
Actually ye to hona hi tha coz hamesa bottom 2 i really don understand whatelse audience want .UrUz gives entertaiment..Mind blowing performance..mirch masala.. Hearttouching love n break up story...still eliminated ..loss to nach baliye..lets hope 4 come back as wild card entry

— pranita7 (@pranita77777) August 21, 2019
Totally gutted they both dance so amazing and such cute couple @StarPlus @BeingSalmanKhan bring back @Urvashi9 they so deserving to be in the show 🙏👍❤

— Salma Jabian (@JabianSal) August 21, 2019
I just got news that #JodiNo.3 #URUJ is eliminated from @nachbaliye9 I mean seriously @StarPlus how can you do this with such performer like @Urvashi9 @ApnAnuj @Banijayasia what kind of show you want if you are throwing out the show stealers

— Rupesh Jha (@rupeshjha07) August 20, 2019
Reality 🙂🙂 @Urvashi9 👍🏻👍🏻 🙌🏻🙌🏻 i do miss nach baliye till season 6 where dance was priority❤️ nd not drama🤦‍♀️
Watched only 1 episode woh bhi premiere ka 😌 thank god not watching this drama #nachbaliye9 https://t.co/UvQkbp4Ard

— Sakshi Agarwal (@sakshi3010) August 21, 2019
Well, this was the most heartbreaking news I have ever come across on this show. Totally unfair decision by the makers and the judges. To witness their elimination you all can tune into Star Plus at 8 pm on Saturday-Sunday. Do let us know your views over their elimination and we will post it on our social media page.
Also Read: TRP Report Week 33: The Kapil Sharma Show enters top 5, replaces this famous show